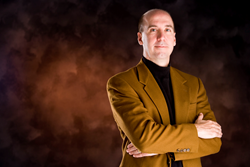 Rather than spending time and energy trying to predict the future, strive to create it.
Minneapolis, MN (PRWEB) February 27, 2014
Local best-selling author and futurist Jack Uldrich will be presenting a keynote address to Wells Fargo on Friday, February 28th. Uldrich will present his speech, "How to Future-Proof Yourself Against Tomorrow's Ten Transformational Trends, Today." As one of the nation's premier financial services firms, Wells Fargo has made a commitment to satisfy their clients' investment needs and help them succeed financially. By understanding the future trends and learning to 'future-proof' from experts like Uldrich, Wells Fargo is striving to ensure both their success and their customers' success.
The material presented is based on a combination of Uldrich's best-selling books, "Foresight 2020: A Futurist Explores the Trends Transforming Tomorrow" and "Jump the Curve; 50 Essential Strategies to Help Your Company Stay Ahead of Emerging Technologies".
Uldrich's interactive speech, which has been tailored specifically to Wells Fargo and their quest to discover what 2014 holds in store, is designed to provide Wells Fargo's leaders and employees with a solid and thought-provoking foundation upon which to continue creating the company's future. An overview of some of Uldrich's ideas can be found in this YouTube clip of his presentation, "Why Future Trends Demand Unlearning", which also aired on WFYI in Indianapolis.
Uldrich will also provide an overview of how technological change is upending long-standing business models and discuss why future trends demand unlearning. Uldrich, who has been hailed as "America's Chief Unlearning Officer" and is author of 2011 best-seller "Higher Unlearning: 39 Post Requisite Lessons for Achieving a Successful Future," will use vivid analogies and memorable stories, drawn from a wide spectrum of industries, to ensure his message of unlearning makes a lasting impression on his audience at Wells Fargo. He will conclude his talk by reviewing the consequences of not embracing the concept of unlearning.
Uldrich's clients include General Electric, IBM, Cisco, United Healthcare, PepsiCo, Verizon Wireless, General Mills, the Young Presidents Organization (YPO), Pfizer, Healthcare Association of New York, Southern Company, St. Jude Medical, Dressbarn, AG Schering, Imation, Lockheed Martin, Fairview Hospitals, Touchstone Energy, The Insurance Service Organization, and hundreds more.
Parties interested in learning about Jack Uldrich, his books, his daily blog or his speaking availability are encouraged to contact Catherine Glynn.
Jack Uldrich is a renowned global futurist, technology forecaster, best-selling author, editor of the quarterly newsletter, The Exponential Executive, and host of the award-winning website, http://www.jumpthecurve.net. He is currently represented by a number of professional speakers' bureaus, including Leading Authorities, Convention Connection, Gold Star Speakers Bureau and Executive Speakers Bureau.