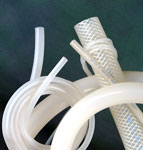 Southampton, PA (PRWEB) February 28, 2014
Silicone tubing from NewAge Industries handles a wide variety of applications well, and it's now available in three grades that address its usage with medical devices and other critical-fluid applications. Because of its extreme flexibility and a temperature range spanning 500°F, it is useful in respiratory and ventilating machinery, pharmaceutical processing, peristaltic pumps, blood and biological fluid handling, electrically-associated equipment, and food and beverage transfer.
Three variations of the tubing are now available, with two types peroxide cured and one platinum cured for an added level of purity. Silcon(R) Medical (http://www.newageindustries.com/silmed.asp) unreinforced tubing is extremely pliable, translucent for visual contact with the flow, and nonreactive to body tissues and fluids. It handles temperatures from -100°F to 400°F (-73°C to 204°C) and has surface properties that resist sticking, encrustation and bacteria growth. Silcon Medical is a peroxide cured product.
Silcon Med-X (http://www.newageindustries.com/silmedx.asp) provides the same benefits and performance characteristics as Silcon Medical but is platinum cured for reduced extractables and a higher degree of purity. Peroxide-cured Silbrade(R) Medical (http://www.newageindustries.com/slbrdmed.asp) is braid reinforced for higher pressure carrying capabilities as compared to unreinforced tubing. Like the Silcon tubing styles, its smooth bore facilitates easy cleaning and system purging.
All three products are manufactured in controlled environments from silicone elastomer that is USP (United States Pharmacopeia) Class VI and FDA compliant. They contain no plasticizers which could leach out, causing flow contamination or tube hardening. The products withstand sterilization methods such as autoclaving and gamma irradiation.
Silcon Medical is stocked in 18 sizes ranging from .030" through 1/2" I.D.; Silcon Med-X in 17 sizes from .030" through 5/8" I.D. The seven stock sizes of Silbrade Medical range from 1/16" to 1" I.D. Custom sizes, colors, hardnesses and additional modifications are available; lead times apply.
Other grades of silicone tubing are stocked by NewAge Industries, and like the medical versions, all are manufactured in the U.S. Standard Silcon and Silbrade are certified by the National Sanitation Foundation for food equipment applications (NSF-51), while full-vacuum-rated Silvac(R) offers the durability of fabric and stainless steel wire reinforcement for more demanding applications.
For more information on NewAge's medical grade silicone tubing, contact the Fluid Transfer Specialists(R) at NewAge Industries, Inc., 145 James Way, Southampton, PA 18966; phone 800-506-3924 or 215-526-2300; fax 800-837-1856 or 215-526-2190; e-mail: info(at)newageindustries(dot)com, or visit http://www.newageindustries.com/silicone_tubing.asp.
About NewAge Industries
In business since 1954, NewAge Industries manufactures plastic and rubber tubing in both reinforced and unreinforced styles. The company offers an overall product quality rating of 99.8%, provides custom extrusion and fabrication capabilities, and services customers worldwide. NewAge Industries maintains a large inventory and prides itself on same-day shipment of 99% of orders for its core product lines. In 2006, NewAge initiated an ESOP (Employee Stock Ownership Plan) for the benefit of both its employees and customers.
The AdvantaPure(R) division of NewAge Industries is ISO 9001:2008 certified and specializes in high purity tubing, hose, single use process manifolds and systems, and other molded components for the pharmaceutical, biomedical, food, beverage, and chemical industries. All products are manufactured, stored, and shipped using the cleanest methods possible to ensure unsurpassed product purity. Automated product identification systems, including gamma stable RFID tags and labels, are offered by NewAge's Verigenics(TM) division.
Silbrade(R), Silcon(R), Silvac(R), NewAge(R), NewAge Industries AdvantaPure(R), Verigenics(TM), and "Fluid Transfer Specialists(R)" are trademarks of NewAge(R) Industries, Inc.