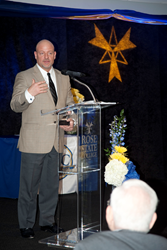 That person at Rose State helped me turn the corner."
Oklahoma City, Oklahoma (PRWEB) February 28, 2014
A former Rose State College student who had been homeless said recently the college turned his life around, and he thanked the unknown admissions employee who helped him enroll.
Now the successful founder of a prestigious government relations firm,Capitol Gains partner Bobby Stem said that although he had graduated high school with honors in Tulsa, he'd moved to Midwest City, fallen into a "bad crowd," and started abusing alcohol—and his life fell apart.
"I slowly but surely turned my life in a really, really bad direction—to the point where I found myself homeless in Midwest City," Stem said. "I wish I could remember the person's name. I can tell you, that person at Rose State helped me turn the corner."
Stem was one of several alumni and benefactors of the college celebrated February 13 at its Annual Recognition Dinner, and was one of four distinguished alumni in the college's inaugural class of its Alumni Hall of Fame. The four former students were honored for professional accomplishments and leadership, and included Stem, Special District Judge Allen Welch, McAfee and Taft attorney Brandon Long, and motivational speaker Danny Cahill, recent star of NBC's The Biggest Loser.
For Stem, the epiphany occurred when he managed to find space on the couch at a friend's house, sleeping off a hangover.
"I would stay with friends sometime overnight," Stem said. "I woke up one afternoon at about 1:30 p.m. I wasn't feeling well. The TV was on. A Rose State commercial was on, saying, 'Do you want to make a change?' I said, 'Yeah, I think I do.'"
After he walked miles to get to the campus, Stem said, the admissions employee welcomed him in and helped him without hesitation.
"They didn't look at me like a guy who got up at 1:30 after drinking too much," Stem said. "They didn't talk down. They didn't say, 'Come back tomorrow.' They said, 'I can help you.' And that's what they did. I ended up in a class."
Stem went on from Rose State to graduate from University of Central Oklahoma in 1994, from the Oklahoma City University School of Law in 2002.
Now the partner at a successful firm, Stem's work at the State Capitol has ended up benefitting countless Oklahomans through, among many other things, highway safety improvements Stem has helped pass legislation to install safety cable barriers throughout the state on its four-lane highways, a move widely credited to save countless lives.
One such life was that of Rose State College President Jeanie Webb.
"Bobby, for me, this is heartfelt, because I would not be here if you hadn't helped build those," Webb told him as she presented his award. "The car I was in got hit on I-35 by a semi, and it (the cable barrier) helped keep me from going across into the oncoming lane. I am one of those lives it saved."
The college's Tower Award was also presented in recognition of significant contributions to the advancement of the college. The Tower awardees include Oklahoma State Rep. Gary Banz and his wife, Linda. Together they are the organizers of Oklahoma Honor Flights to honor World War II Veterans. Mike Kloiber is the president and CEO of Tinker Federal Credit Union. He and his wife Pam Kloiber are organizers of Home Away from Home for airmen at Tinker Air Force Base. Finally, Norris Price, a former Rose State College Regent, is the former executive director of the Oklahoma Real Estate Commission and the former executive director of the Oklahoma Department of Civil Defense. His wife, Betty, was the longtime executive director of the Oklahoma Arts Council.
About the Rose State College Foundation:
Since its creation in 1977, the Rose State College Foundation has operated exclusively for charitable, benevolent, educational, and scientific purposes in support of Rose State College. The two main areas of focus for Foundation support are student scholarships and enhancements for academic programs. The Rose State College Foundation is a registered 501(c)3 charitable organization.