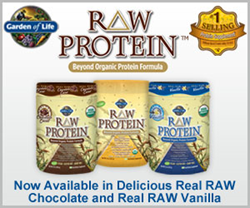 Raw Protein is an excellent source of complete protein, providing 17 grams, or 33% of the Daily Value, plus all essential amino acids.
(PRWEB) February 28, 2014
Garden of Life, a top ranked whole food supplement company, released a line of plant-based whole protein powders and meal replacements last year. The whole line has been very successful and fills a market niche for easily digestible, good tasting proteins. According to SPINS, a team of experts that acquire, consolidate and transform raw data into detailed analytics and insights into the supplement industry, Garden of Life's Raw Protein and Raw Meal are now number one in the industry.
Raw Protein is an excellent source of complete protein, providing 17 grams, plus all essential amino acids. According to Gail Bowman, Owner of Healthy Vitamins, "Raw Protein is great for almost anyone, including those on vegetarian or vegan diets, those on low carbohydrate diets or for those with digestive sensitivities to milk, whey or other animal based protein sources."
Raw Meal was formulated to be a snack or meal replacement that satisfies hunger, is naturally filling and provides energy, all while providing the complete protein, fiber, vitamins and minerals that you would find in a healthy meal of raw foods. "The great thing about Raw Meal is that you know you are getting really great nutrition from a product that is all organic and Non-GMO. " said Ms Bowman.
The Extraordinary Health Magazine has posted some new recipes for Raw Protein. Here are two:
Chai Bombs
Makes 26 to 30 cookie balls
Ingredients:
3 cups organic raw, unsalted pecans
10 Medjool dates (remove pit and soak
dates in a bowl of water for 10 minutes to soften)
1 scoop Garden of Life® Vanilla Chai RAW Protein
1 Tablespoon Garden of Life Extra Virgin Coconut Oil 1/2 cup dried organic cranberries
1 teaspoon cinnamon
1 teaspoon orange zest
1/4 teaspoon nutmeg
Directions:
Place pecans in food processor using the "s" blade and process until they are finely chopped. Remove dates from water but do not pat dry. (You need them
to be moist in order to get the batter to stick). Add all ingredients into the food processor on top of the pecans and pulse until everything is well mixed and begins to stick. Roll about 1 Tablespoon of batter into a ball to form a cookie. Refrigerate for up to one week.
RAW Protein Power Pancakes
Ingredients:
5 organic egg whites
1 serving Garden of Life RAW Protein Vanilla
1/2 cup organic rolled oats
1/2 teaspoon vanilla or almond extract
1/2 cup favorite organic fruits
stevia (with zero calories) or cinnamon, to taste
Directions:
Add all ingredients to a blender and blend until smooth, or mix the ingredients with a fork.
Cook the pancakes in a non-stick frying pan until light to golden brown on both sides.
Add your favorite toppings.
Gail Bowman is the owner of Healthy Vitamins, an online Health Food Store specializing in whole food supplements.