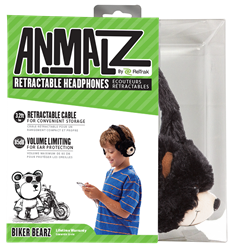 "With so many young kids using mobile devices for entertainment and educational purposes today, we wanted to develop earphones that are not only safe and high in quality, but fun to wear!"
Irving, TX (PRWEB) February 27, 2014
ReTrak by Emerge Technologies announces the launch of its wildly fun new line of animal-themed earphones designed for kids. The new Animalz earphones boast safety features designed specifically for younger electronics users with more delicate ears. All models come with must-have features including ReTrak's signature retractable cord, a case-compatible connector and more!
The exteriors of the earphones are detailed with plush animal designs including, Beach Dawgz, Jam Bunneez, Biker Bearz and Skate Monkeez, that capture the imagination of the family's littlest listeners by offering lightweight cushion comfort, the "cool factor" and easy usage. They may even want more than one! Little tykes can be a "Jam Bunny" one day and a "Skate Monkey" the next!
The precision engineering of the interior ensures hearing safety with the added integrated volume limiting safety control that automatically peaks volume at a low 85 dB without compromising sound quality.
Billy Scullion, ReTrak's Director of Product Development said, "With so many young kids using mobile devices for entertainment and educational purposes today, we wanted to develop earphones that are not only safe and high in quality, but fun to wear!"
In a world where convenience and longevity are things that are highly desired, the retractable cable stretches to only 3.2 feet putting an end to entanglement, wear-and-tear on the cord and has delivers storage solutions when retracted into the earphones.
The thin case-compatible 3.5 mm connector allows the little ones to plug into mom and dad's electronic devices or their own without having to remove the case. Now, those long car rides, extended errands with the parents and just casual listening are fun experiences for the youngsters and less stressful on the parents.
Animalz are now available in major retailers worldwide. For more information about where to buy and to read more about ReTrak by Emerge Technologies, go to: http://www.retrak.co/en-us/wheretobuy.aspx.
ReTrak (http://myretrak.com) is a leading brand of retractable consumer electronic accessories developed and distributed by Emerge Technologies in Irving, TX. With over 150 products available at major retailers worldwide, ReTrak's innovative products keep cables and cords that power today's mobile lifestyle from getting in the way. From iPod to cell phone and computers to gaming, ReTrak offers solutions that vastly improve the mobile experience.