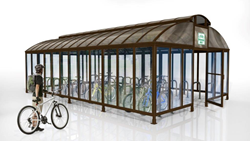 Richard Cohen, Velodome President, states "statistics show that bike commuting is growing at about 10% per year. This trend is good for the environment and for the colleges, businesses and communities that encourage healthy & sustainable transportation"
(PRWEB) February 28, 2014
Velodome Shelters announces the immediate availability of its new line of bike shelters, bike racks and bollards. Among the most extensive bike shelter selections in the biking industry, Velodome's line consists of 7 new shelter designs, 6 new bike racks and 2 types of traffic bollards. These products address the two primary concerns of bike commuters: protecting bikes from theft and from the elements.
With the growing trend of biking for recreation, commuting and exercise, bicycle sales and use in all categories are growing. The complete product line will be available to customers throughout North America.
The new product collection is led at the high end by the Velodome Guardian. The Guardian is an outdoor, freestanding bike room designed for urban environments. Its secure design lends itself to both short and long-term bike parking. Options include key and keyless lock systems, solar lighting, 4' x 6' illuminated advertising panels and a bike repair station.
Facility managers will appreciate the low maintenance of the anodized aluminum frame and shatter-proof, pre-glazed glass panels and pre-fabricated sections for easy installation. To reduce heat build-up, a vented roof is combined with tinted, UV resistant, polycarbonate panels.
All of the Velodome Shelters are modular so additional sections can be added as the demand for covered bike parking increases. They can also be custom designed for any site.
At the other end of its product line, Velodome offers an economical selection of high-security, commercial bike racks. The inverted U-racks are either heavy-duty round pipe or square steel tubing that foil pipe cutters. For on-street parking, the U-Corral can park 10 bikes in a standard parking spot. For limited spaces, their unique MaxRack™ and VeloMax shelters hang bikes vertically and double the capacity of traditional bike parking. Velodome also offers a MaxRack Stand for indoor bike rooms.
Details about the Guardian model, bike racks and other new products are viewable at the Velodome newly designed website at http://www.velodomeshelters.com.
About Velodome Shelters
Velodome Shelters specializes in innovative bicycle parking shelters and high-security bike racks that protect bikes from the elements and deter theft. Their clean, contemporary styling makes a highly visible statement a company's or institutions values and commitment to alternative transportation.