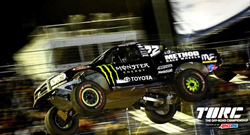 Dana Point, Calif. (PRWEB) February 27, 2014
TORC: The Off-Road Championship, the nation's premiere short-course, off-road racing series, has announced that Magnaflow, the leading designer and manufacturer of performance exhaust products, will be an Official Series Partner for the 2014 TORC season.
Magnaflow products range from direct-fit converters and cat-back systems to universal mufflers and custom builder's kits designed to deliver superior quality, power and sound. Top drivers and car builders have come to rely on the company's products. That roster includes automotive designers and racing legends like Mario Andretti, Chip Foose, Marco Andretti, "Grave Digger's" Dennis Anderson, Casey Currie, Johnny and CJ Greaves, Vaughn Gittin Jr and Jeremy McGrath.
"MagnaFlow is proud to again be associated with TORC. The 2013 season was successful for Team MagnaFlow, with multiple wins and great fan interaction. TORC provides not only exciting racing, but compelling story telling as well," says Dan Mickelsen, Director of Marketing at MagnaFlow. "Our fans are TORC fans, and this is a story where we want to play a role. This year, we are ready for even more with the launch of our new off-road header program and stronger presence on the track and at the events."
As an Official Series Partner, Magnaflow will have significant brand visibility through media exposure including television, radio, print, digital and social media as well as display space, track signage and fan activation at TORC events.
The company will also be sponsoring four TORC drivers this season: Johnny Greaves in Pro 4X4; CJ Greaves in Pro 2WD and Pro Light; and Casey Currie and Brad Lovell in Pro Light. Each racer will be running custom-built Magnaflow systems in their vehicles.
"We are excited to welcome Magnaflow to TORC off-road racing this year," said TORC President BJ Birtwell. "Aligning with proven, leading brands brings strong benefits for both parties, and we look forward to helping Magnaflow continue to build its legacy with automotive and motorsports enthusiasts. And we're anticipating fantastic performance and sound out on the track from the vehicles they are behind this season."
TORC: The Off-Road Championship will hold seven events across the United States this year, with NBC Sports providing television coverage and a behind-the-scenes docu-reality series. The 2014 event schedule features races at the following venues:

April 5-6: Primm, NV (Primm Off Road Raceway)
April 25-26: Charlotte, NC (Charlotte Motor Speedway)
May 17-18: St. Louis, MO (Gateway Motorsports Park)
June 28-29: Crandon, WI (Crandon Int'l Off Road Raceway)
July 19-20: Bark River, MI (Bark River Off Road Raceway)
Aug 5-6: Sturgis, SD (Buffalo Chip Powersports Complex)
Aug 30-31: Crandon, WI (Crandon Int'l Off Road Raceway)
For more information on TORC: The Off-Road Championship including NBC Sports episode premiere dates, visit http://www.torcseries.com or find TORC on Facebook at http://www.facebook.com/torc and Twitter @TorcOffRoad.
About TORC
TORC: The Off-Road Championship presented by AMSOIL is the nation's premiere short-course, off-road truck racing series. Known as a collision between action sports and motorsports, TORC is the ultimate battleground for 900-horsepower race trucks competing to win the prestigious TORC National Championship. Fans from all over the world enjoy TORC through high-energy events as well as the TV broadcasts on NBC Sports. For series partnership information or racer inquiries, email info(at)torcseries(dot)com or visit http://www.torcseries.com.
About MagnaFlow
MagnaFlow, with their legacy of performance, has been a global leader in hi-quality exhaust systems for over 30 years. Industry leading technology, design, fitment and manufacturing has made MagnaFlow the choice of Champions and performance enthusiasts worldwide. Made in the USA, MagnaFlow designs and manufactures a full line high-quality, high-performance exhaust products for the automotive and motorcycle aftermarkets as well as a lifestyle apparel line. Known for both innovation and extensive coverage, MagnaFlow delivers full systems, slip on mufflers and in-house designed and built catalytic converters to meet and exceed the demands of today's drivers and riders. With unmatched style, sound, performance and quality, MagnaFlow has been become the exhaust system of choice for many Master Builders and Champion racers such as Mario Andretti, Chip Foose, "Grave Digger's" Dennis Anderson, Arlen Ness and Vaughn Gittin Jr. Quality, Power and Sound is what it is all about at MagnaFlow.