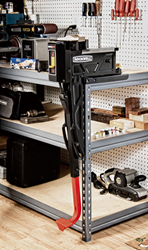 Charlotte, NC (PRWEB) February 27, 2014
BenchJaws is a member of the JawHorse family of workstations. It secures projects for sawing, sanding, drilling, gluing, refinishing and polishing. The jaws, like the JawHorse® are foot-pedal activated leaving the operator's hands free to handle the workpiece. It mounts to a corner of a workbench through a steel, L-shaped plate with pre-drilled holes. Once the L-shape plate is installed, the vise can be rotated 90° by loosening thumbscrew that holds the unit in place.
BenchJaws is constructed of heavy gauge, powder-coated steel for strength and rigidity. The 22 lb. workstation has a clamping range of 0-16 in., and supports loads up to 220 lbs. The vise generates up to one metric ton (2,200 lbs.) of clamping force.
The Rockwell BenchJaws (RK9006, $99.99) and optional accessories,whichaccessories, which include Extension Jaw, (RW9207, $39.99) and Multipurpose Jaw, (RW9208, $39.99), are available through Woodworkers Supply, Menards, Amazon.com, http://www.rockwelltools.com and other websites.
Rockwell JawHorse Sheetmaster™ is specially designed to handle 4x8 sheets of plywood, drywall and other oversized materials without additional accessories. Like the JawHorse, Sheetmaster has an incredible clamping force of one metric ton and load bearing capacity of 600 lbs.
Use the workstation to cut through plywood, 4x4s, 1x6's and other dimensional lumber, but it also is ideal for building cabinets, supporting a bicycle for repairs or holding furniture at a convenient height for sanding, gluing or finishing.
Sheetmaster's patented foot pedal design closes its jaws with each stroke of the pedal. This pumping action compresses the 8 in. x 3 in. steel jaws until the work piece is clamped securely.
Sheetmaster has auto-locking leg latches to speed setup and teardown. Just slide a button to release the front legs. The workstation measures 46 in. L x 35-1/2 in. W x 34-3/4 in. H when opened. When not in use, it folds compactly to fit into vehicles, truck beds, closets, workshops or garages.
The Rockwell JawHorse Sheetmaster (RK9002, $219.99) is available on rockwelltools.com and other online retailers.
Another workstation member is the Rockwell JawStand™ XP. The JawStand XP supports loads up to 220 lbs. and clamps work pieces up to 1-3/4 in. thick. It raises work materials up to 43 in. off the ground. The support head pivots 0 to 90°, swivels 360° and is situated on a heavy-duty tripod base.
Where the JawStand XPJawStand XP excels is as a work stand support. For example, it can hold a door during installation, raise a utility cabinet to support installation, angle an 8 ft. 2x4 below a piece of crown molding for installation, and more. It also works well as an outfeed when cutting sheet goods or long pieces of stock. Its friction-less, non-marring surface prevents damage to the work piece.
The Rockwell® JawStand XP (#RK9034, $79.99) is available at rockwelltools.com, Woodcraft.com and home centers and hardware stores.
Follow Rockwell Tools on Facebook: https://www.facebook.com/RockwellTools?ref=hl, Twitter: https://twitter.com/RockwellTools ,Pinterest: http://pinterest.com/rockwelltools/ and Vine: @RockwellTools.
# # #