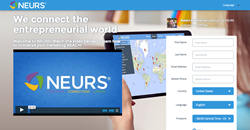 ... This just goes to show that NEURS and the affiliate program has really struct a chord in the global entrepreneur and provider community.
Houston, Texas (PRWEB) February 26, 2014
The first 30 days of online activity for the NEURS affiliate program has provided tremendous growth for the Miami, Florida based tech start-up. In the first 30 days of the initial beta launch (January 26 - February 26, 2014), NEURS has received:

4+ million page views
1+ million invitations sent
Over 675,000 unique visitors
Hundreds of thousands accepted NEURS invitations
Over 100,000 active users who have checked in at least once in the last 7-10 days
"The growth we have seen in our NEURS affiliate program has been amazing. Within our affiliate network, we have seen affiliates from more than 165 countries around the world enroll into NEURS." Said Robert Hawthorne, who is an Independent NEURS Affiliate currently ranked the #1 United States. "This just goes to show that NEURS and the affiliate program has really struck a chord in the global entrepreneur and provider community."
Neurs is a business start-up consulting firm that connects and empowers entrepreneurs around the world. Online services will include connections and capital resources that entrepreneurs need to find, build, and profit from their ventures. In addition to the services, NEURS will soon offer training through "NEURS University" to help train and educate entrepreneurs. 20 of 50 online courses will be made available at the official launch of NEURS in March/April, 2014.
For entrepreneurs, NEURS provides connections to a local, national, and global pool of providers as well resources to help get their start-up idea off of the ground.
For those seeking a business opportunity, NEURS provides an online "business opportunity match-making service" that will connect those looking for a business opportunity to viable local, national, or even International business opportunities. These opportunities will range from work-at-home businesses, direct sales or network marketing, all the way to multi-million dollar franchises. Those searching for an opportunity will have the ability to directly connect with those offering a business opportunity that they may be interested in learning more about.
Until now, no such global business opportunity database has existed for those seeking an opportunity.
For providers, who are those who provide either a business opportunity (direct sales, franchise, information product creators, etc.) or a service to entrepreneurs (Attorney, CPA, designer, programmer, writer, author, consultant, etc.) NEURS will provide a new method for generating business.
Providers who choose to be listed in NEURS will have their company and information shown to entrepreneurs who who are seeking their services. Additionally, entrepreneurs will be able to easily connect to the local, national, or International providers of services or a business opportunity via the NUERS back office.
Additionally, Franchisors, individuals, or businesses who provide a business opportunity will also have access to an online webinar system to educate people about their business opportunity to further enhance their lead-generation.
NEURS also provides a multi-tiered affiliate program. Affiliates will earn both upfront as well as monthly residual commissions by referring customers to either the entrepreneur account or provider account. (Both account levels start at $99 per month.) Additionally, affiliates can also refer other affiliates to generate a monthly residual income stream from the customers they refer. It won't be long before the NEURS reviews and success stories on both the affiliate program and accounts begin to emerge.
To enroll into the NEURS Affiliate program, visit: http://NeursInvite.com. NeursInvite.com is an Independent Affiliate of NEURS.