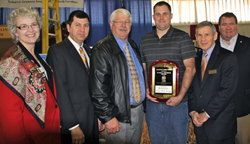 It is an honor to recognize Mr. Hedrick for his innovation and success in agriculture. He represents the future of agriculture and that future is bright.
Statesville, NC (PRWEB) February 27, 2014
Vance C. Dalton, Jr., CEO of Carolina Farm Credit announces that Russell Hedrick of Catawba County is the winner of the first annual Innovative Young Farmer Award. The award, sponsored by the Tobacco Farm Life Museum and the Farm Credit Associations of North Carolina, was created to promote and encourage the continuation of the agriculture industry in North Carolina. Hedrick received the award at the Museum's event "Breakfast with the Commissioner" at the Farm Show in Raleigh earlier this month.
"Having the opportunity to reward an up and coming farmer is such a treat for us," said Gayle Kildoyle, Executive Director of the Tobacco Farm Life Museum. "Being a Museum, we are usually focused so much on the past, it was such a gratifying experience for the Museum to be involved with something in a current time period. The "Innovative Young Farmer" award is a way for the Museum to tie together the past and present as well as have a look into the future of agriculture in North Carolina."
Hedrick, 28, and a Hickory, N.C. native, is the owner and operator of JRH Grain Farms, LLC and is also full-time Firefighter. He has about 275 acres in production of soybeans and corn and is planning to grow his operation to approximately 500-600 acres over the next few years. He is a leader in the ag community in Catawba County where he works very closely with NRCS and Catawba County Soil and Water to ensure he is a good steward of his farmland.
Hedrick is a role model in Catawba County for innovative cover-crop rotations. He works with individuals from USDA and NCDA in order to track results and production patterns by using the cover crops and is currently working with NRCS to host a cover crops field day at his operation in May.
Vance Dalton,Jr., CEO of Carolina Farm Credit said, "It is an honor to recognize Mr. Hedrick for his innovation and success in agriculture. He represents the future of agriculture and that future is bright."
Carolina Farm Credit is a stockholder-owned cooperative providing financing to full and part-time farmers and agricultural-related businesses and also provides financing for the construction and purchase of homes in 54 counties through 36 service centers. Other financial services available are credit life insurance, crop insurance, appraisal services, leasing programs and financial planning.
Carolina Farm Credit serves over 9,000 members with loans outstanding totaling more than $1.4 billion. The association's territory covers the western half of North Carolina, with service centers located in Albemarle, Asheboro, Asheville, Boone, Browns Summit, Burnsville, Carthage, Concord, Ellerbe, Graham, Hendersonville, Hillsborough, Jefferson, Lenoir, Lexington, Lincolnton, Marshall, Mocksville, Monroe, Murphy, Newton, Pilot Mountain, Roxboro, Rural Hall, Salisbury, Shelby, Siler City, Sparta, Spindale, Statesville, Taylorsville, Wadesboro, Waynesville, Wilkesboro, Yadkinville, and Yanceyville.
Carolina Farm Credit was recognized as a 2013 Best Employer in North Carolina. The list of the Best Employers in North Carolina was created by Business North Carolina, the Society for Human Resource Management (SHRM) – NC State Council and Best Companies Group.
Directors for Carolina Farm Credit are Mark A. Bray, Chairman, Lawsonville; L. Kim Starnes, Vice-Chairman, Salisbury; John M. Barnard, Statesville; E. Bernard Beck, Seagrove; W. Rex Bell, Statesville; David M. Coltrane, Pleasant Garden; Susie J. Gambill, Sparta; Joseph A. Lail, Shelby; W. Steve Love, Graham; Bobby J. "Bud" Matthews, East Bend; Clark M. Newlin, Haw River; Thomas E. Porter, Jr., Concord; Tony L. Ragan, Sanford; D. Kaleb Rathbone, Waynesville; Lewis E. Smith, Lincolnton; Vickie N. Smitherman, East Bend; Dr. Alton Thompson, Summerfield.