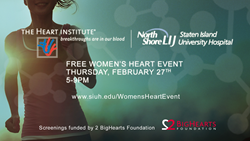 "2 BigHearts is the inspiration for this event and we thank them for sponsoring these free screenings," - Dr. McGinn.
Staten Island, New York (PRWEB) February 28, 2014
As part of Heart Month, The Heart Institute at Staten Island University Hospital will host the Women's Heart Event on February 27th from 5-9pm at the Regina M. McGinn MD, Education Center. 2 BigHearts, a non-profit organization focused on raising awareness on heart health and disease prevention, will be sponsoring no-charge screenings for women who currently are not seeing a cardiologist.
Heart disease is the number one killer for women and currently accounts for 1 in every 4 deaths (equivalent to 290,000 deaths) in the United States. A common misconception is that heart disease is always associated with chest pain; however, according to Dr. Joseph T. McGinn, Medical Director at The Heart Institute, "two thirds of women who die suddenly of coronary heart diseases have no previous symptoms. Other symptoms such as extreme fatigue, nausea, dizziness, and shortness of breath often go unnoticed as heart disease symptoms."
The event will feature five cardiologist speakers, including Suzanne Steinbaum DO, Cardiologist & Director of Women and Heart Disease at Lenox Hill Hospital – North Shore-LIJ Health System, along with Medical Director at The Heart Institute, Dr. Joseph T. McGinn. "2 BigHearts is the inspiration for this event and we thank them for sponsoring these free screenings," expressed Dr. McGinn.
The 2 BigHearts Foundation is a non-profit organization founded in 2005 by Jim Clarke after he lost his wife and her sister on the same day, 90 minutes apart, from the same undiagnosed heart condition known as cardiomyopathy. 2 BigHearts has successfully raised funds to provide more than 1,800 comprehensive heart screenings for women. "We thank The Heart Institute for using our story to educate the women of New York and New Jersey that prevention is key to understanding your heart health," shared Jim Clarke.
Other speakers from The Heart Institute will include Staten Island University Hospital Director of Cardiology, Dr. Thomas Costantino, Associate Chairman of Interventional Cardiology, Dr. Frank V. Tamburrino, and electrophysiologist, Marcin Kowalski.
For more information on The Heart Institute, please contact Richard A. Clarke, at 917-868-1407 or by email: RClarke(at)TheHeartInstituteNY(dot)com. If you're interested in learning about 2 BigHearts, please contact Jim Clarke at 219-860-0270 or by e-mail: jclarke(at)2bighearts(dot)org.
_____________________
About The Heart Institute
The Heart Institute opened in 2001 and operates at the North Campus of Staten Island University Hospital at 475 Seaview Avenue. It is one of the nation's leading heart hospitals known for its pioneering techniques in heart surgery, angioplasties and electrophysiology (Afib) in addition to its most advanced diagnostic technologies, post-surgical outpatient care and cardiac prevention programs. Procedures include coronary bypass operations, heart valve repair/replacements, angioplasties, cardiac ablations and cardiac catheterizations. Staten Island University Hospital is part of the North Shore – LIJ Health System.