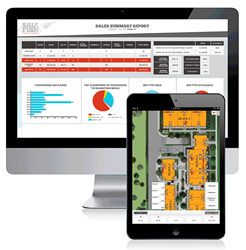 The new version will will greatly improve the users experience and allow direct access to many new features of our sales software.
Concord, ON (PRWEB) February 28, 2014
Today Salefish announced a significant software upgrade with new functionality to their Home Builders and Condominium Developers Sales Software.
The new version features an "on demand" Help menu which is accessible from each page. Sales teams and realtors can get up to speed with the software with little training required. No longer will users need to open PDF's to access additional information.
Rick Haws, President of Salefish Software explains, "This release is really quite exciting for us. The new version will greatly improve the users experience and allow direct access to many new features of our sales software. This version is based upon making our application as user friendly as possible."
The new Salefish version also includes a new menu design to help streamline pricing set-ups while setting up a new project. Also built into the software release is a newly designed worksheet for both low-rise and high-rise properties.
Rick explains "The worksheet neatly organizes all the essential 'deal' information for the sales agents. Sales and customer data is saved into one centralized format, thereby simplifying the selling process for the realtor and turning a prospect into a satisfied buyer."
Other recent improvements include a new Summary Report that graphically displays vital information for: Marketing Effectiveness, Customer Demographics, Sales Data for model, elevation and lot availability.
Salefish is a unique, web-based software for builders, developers and their sales agents who are looking to sell more effectively. The software offers real-time, up-to-date project & sales information, pricing details, unit availability and much more.
Since 2010 Salefish has been focused on revolutionizing a real-time sales solution for Home Builders and Developers who require an instantaneous Live-Siting Analysis mapped with the site plans Architectural Controls.
The home and condo sales software operates on LED monitors with Touch Screens, and iPad's accessing vital information that no other POS sales software does.
The company invites those interested, to take a live tour of Salefish by signing up for a demo.
FOR MORE INFORMATION ABOUT SALEFISH CONTACT:
Rick Haws: rhaws(at)salefishsoftware(dot)com
Salefish Inc.
8395 Jane Street, Suite 203
Concord, ON L4K 5Y2
Call Salefish at 905-761-5364