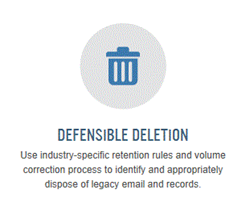 In order for deletion to be defensible, you must be able to show the logic behind your retention rules and schedule. - Robert Fowler, Director of Professional Services at Jordan Lawrence
St. Louis, MO (PRWEB) February 27, 2014
Jordan Lawrence, an Association of Corporate Counsel (ACC) Alliance Partner, along with law firm Bond, Schoeneck & King will host an In-house Counsel Series on February 27th on where to start with records retention and defensible deletion. The presentation will feature Robert Fowler, Director of Professional Services at Jordan Lawrence, a leading provider of records management and information governance solutions and Brian Butler, Partner and Chair of the eDiscovery and Information Management Practice Group at Bond, Schoeneck & King, PLLC. This session will discuss how in-house counsel can lead an initiative that reduces the amount of data their companies have by as much as 70%.
Companies are buried by gargantuan amounts of records and information and those amounts are growing at uncontrollable rates. Soaring e-discovery costs, legal and compliance risks and the high price tag for IT to store, manage and search through massive amounts of information have propelled records retention from the back burner to a red-hot issue for both legal and IT.
Companies who are frequently engaged in e-discovery exercises, investigations or audits have begun to understand that the ultimate answer to decreasing costs and risks while meeting regulatory and legal obligations is to take a more proactive approach to information management. An approach that does not include expansion of information storage but instead relies on defensibly deleting data that is no longer required for legal or business purposes.
But the question is how do you make deletion defensible? "In order for deletion to be defensible, you must be able to show the logic behind your retention rules and schedule. If you can document the process and explain how you get to the decisions and how you've executed on them consistently then you can achieve defensible deletion," said Robert Fowler of Jordan Lawrence.
When companies proactively and defensibly eliminate obsolete records and information prior to litigation, the results are dramatically lower discovery and review costs. Even companies that have infrequent litigation can reduce costs substantially for storage and be better prepared should they find themselves in litigation or an investigation.
About Jordan Lawrence
For over 25 years, Jordan Lawrence has worked with the world's premier companies to develop and implement records management programs that work. Jordan Lawrence provides proven, fast and affordable services that help any company meet current and ever changing legal and business requirements related to records management and information governance.
About Bond, Schoeneck & King, PLLC
Bond, Schoeneck & King PLLC is a law firm with nearly 220 lawyers serving private and public sector clients and individuals, in a broad range of practice specialties. Bond has nine offices in New York State, including New York City and Garden City, and offices in Naples, Florida and Overland Park, Kansas.