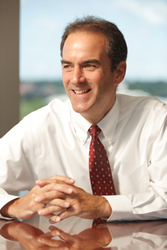 Albany, NY (PRWEB) February 27, 2014
CDPHP® is pleased to announce that Brian O'Grady has been appointed senior vice president of sales, effective March 10, 2014.
With nearly 20 years of health insurance leadership experience, Mr. O'Grady will be responsible for large and small group sales, exchange sales development and broker relations. In his role at CDPHP, Mr. O'Grady will focus on sales effectiveness, product development and broker relationship development. He will report to Senior Vice President of Marketing and Chief Marketing Officer Brian Morrissey.
"Brian's proven track record of sales leadership, broker service and product development will help CDPHP build upon its record of success in the Capital Region, Hudson Valley and Central New York," said John D. Bennett, MD, president and CEO, CDPHP. "We are thrilled to welcome him to our team."
"I am excited to join the talented team at CDPHP and look forward to being a part of the health plan's commitment to providing unparalleled service, value and quality to its membership and the community," Mr. O'Grady said.
Mr. O'Grady comes to CDPHP from HealthNow New York, Inc. d/b/a BlueShield of Northeastern New York, where he worked for 15 years from 1995 to 2006 and again from 2010 to 2014. He served in a variety of roles, most recently as vice president of commercial group accounts. From 2006 to 2010, he was regional vice president of sales for Anthem BlueCross and BlueShield of New Hampshire.
Mr. O'Grady earned an MBA in health care administration from Southern New Hampshire University, as well as a Bachelor of Science in chemistry from the State University of New York at Albany. He currently serves on the board of directors for Hixny, the Center for Economic Growth (CEG) and the United Way of the Greater Capital Region. He previously served as chair of the American Heart Association's North Country Heart Walk.
About CDPHP®
Established in 1984, CDPHP is a physician-founded, member-focused and community-based not-for-profit health plan that offers high-quality affordable health insurance plans to members in 24 counties throughout New York. CDPHP is also on Facebook, Twitter, LinkedIn and Pinterest.
###