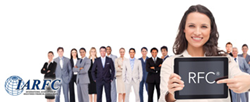 The best way to grow our Association is through the referrals from our members. - Amy Primeau, IARFC Member Services
Middletown, OH (PRWEB) February 28, 2014
The Member-Refer-A-Member Campaign is a simple process set up for members to send in referrals. They fill in the required paperwork and put forth prospective names. These prospects are then contacted by the IARFC for an orientation on the member benefits. When the prospect sends in their membership application and is approved, the referrer gets a check. It is easy for all involved.
"We feel this new referral program will increase our membership and say THANK YOU to members who take the time to recruit other professionals," says IARFC Chairman and CEO Ed Morrow. "In the past, it has been a very successful incentive. We are hoping this new program will have equal or even better success."
The IARFC and their specific designation Registered Financial Consultant (RFC), ensures the public that they are engaging a financial consultant who has a solid background and ample experience in financial matters. The Association has maintained these quality standards for over 30 years. The more new members that become involved, the more positive impact to the general public.
Continues Ed Morrow, "It is imperative to expand our exposure to the public to help them choose someone who represents a Code of Ethics when handling the financial concerns of their clients. We expect all of our members to meet this high criteria and look for those new candidates to continue our mission."
The start date of the Member-Refer-A-Member program is March 1st and continues through May 31st. "The best way to grow our Association is through the referrals from our members," advises IARFC member services spokesperson Amy Primeau. Anyone wishing to participate and refer candidates can download the information form, fill it out and send it in or call 513.424.6395 ext. 307.