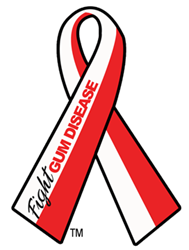 Philadelphia, PA (PRWEB) February 27, 2014
In Pennsylvania, February is officially "Gum Disease Awareness Month"; a statewide effort to draw public attention to the dangers and widespread occurrence of the disease. Many dentists are lending their support to the campaign, including Dr. Stephen Brown of The Perio Group.
"Over 85% of Americans adults suffer from some degree of gum disease," comments Dr. Brown, who sees many periodontal patients at his dental practice in Philadelphia. "Fewer than half of these cases are diagnosed until the disease is already advanced and tooth loss is imminent. People ignore the symptoms or don't know what they mean, and we need to change that."
Mounting university research links gum disease to heart disease, diabetes, stroke, pre-term and stillbirths and certain cancers. It has also been identified as the leading cause of bad breath, bleeding gums and tooth loss.
"I believe that gum disease is an epidemic," says Dr. Brown. "It's not just a public health issue; it's something that has a profound impact on people's lives by affecting their overall wellbeing and self image. I've seen patients who feel ill, who have depressed immune systems, who won't date because of bad breath, or who retire early because their smile wasn't what it once was."
Dr. Brown was the first dentist to introduce LANAP, a laser oriented, alternative to conventional gum surgery, to the Philadelphia area. "We know that periodontal disease is a bacterial infection," Brown says. "Non-invasive laser treatment is now our primary choice for gum disease patients at The Perio Group, replacing older techniques like gum surgery. LANAP addresses the cause of the disease and lets the body's natural healing ability do the rest."
Pennsylvania is one of 28 states that have adopted Gum Disease Awareness Month. In support and recognition of GDAM, Dr. Brown and other dentists in the state are offering complimentary screenings for periodontal disease.
To learn more about gum disease, risk factors, early warning signs and treatment options (including LANAP), visit fightgumdisease.com and get involved on f acebook.com/fightgumdisease and twitter.com/fightgumdisease.
ABOUT GUM DISEASE AWARENESS MONTH: Gum Disease Awareness Month is an annual event targeted at sharing information and spreading awareness of the risk factors, signs and symptoms, and treatment options available in the fight against gum disease as well as encouraging a higher standard of dental health. The initiative is supported by the Institute for Advanced Laser Dentistry, a non-profit educational and research center dedicated to providing evidence-based clinical training in laser dentistry therapies.
Dr. Stephen Brown is Professor of Periodontics at the University of Pennsylvania and Temple University Schools of Dentistry, is the Director of the Dental Implant Center at Albert Einstein Medical Center, and is certified by the American Board of Periodontology. To contact Dr. Brown, call 215-735-3660 or visit his website at http://www.theperiogroup.com.