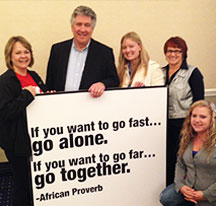 "The takeaway from this retreat was immeasurable, and we were able to immediately take that knowledge back to our office to better serve our clients."
Beemer, NE (PRWEB) March 04, 2014
Feller Law Office founder John D. Feller, Esq. and his staff recently returned from the Lawyers with Purpose (LWP) Enhancement Retreat held in Orlando, FL. This marked the third consecutive event in which the entire firm has participated.
Attended by 125 people from 35 elder law and estate planning firms across the country, the Enhancement Retreat provides a tri-annual forum for legal professionals and their team members to share best business practices, learn about emerging technologies, and benefit from their collective wisdom and experience.
An LWP member for more than five years, Feller is a firm believer in the value of such esteemed industry events for his staff members. As he did for the last two retreats held in Syracuse, NY, he closed the office for three days so that Amanda Bossow, Client Services Coordinator; Ardie Smith, Personal Relations; Lisa Yosten, Medicaid/Probate Support; and Katherine Stratmann, Paralegal/Marketing could take part.
"The takeaway from this LWP retreat was immeasurable," said Feller. "This very interactive forum encouraged us to share what has worked well for us, and to learn from our peers what they'd found to be effective. By receiving the latest information in our fields, collaborating with our very talented colleagues, learning about new technologies, and discovering better ways of doing business, we were able to immediately take that knowledge back to our office to better serve our clients."
A membership organization for attorneys practicing in estate planning, elder law, Medicaid planning, asset protection, Special Needs planning and/or VA Benefits, Lawyers with Purpose was founded by David J. Zumpano CPA, ESQ in 2001. As stated on their website, they are a company that "uses our talents, systems, technology and coaching to inspire lawyers to have thriving client-centered practices that help the people in their community to protect what's important to them."
About Feller Law Office, P.C., LLO
Founded in 1976 by John D. Feller, Esq., Feller Law Office is a full-service Nebraska estate planning and elder law firm that specializes in fundamental estate planning, Medicaid and long-term care planning, probate and estate administration, Medicaid qualification and application, trust administration, special needs planning, charitable giving, business succession planning, planning for retirement, veterans benefits, and Aid & Attendance qualification and application. Dedicated to "preserving Nebraska's heritage one family at a time for over 30 years," Feller Law Office represents area farmers, individuals, families and business owners throughout the state with caring, compassion and commitment.