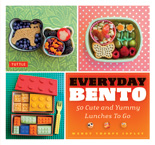 "Who knew lunch-packing could be this much fun?"—Whitney Moss, co-author of The Rookie Mom's Handbook
North Clarendon, VT (PRWEB) March 04, 2014
Are you tired of making the same old brown bag lunch? With Everyday Bento, you can make food fun, delicious and even nutritious, all at the same time. Kids will love an adorable bear cub made from brown bread, peanut butter and jelly nestled on a bed of blueberries. Cut watermelon into hearts, and tuck them next to a ham sandwich shaped like ballet slippers for your budding ballerina. Create building bricks from healthy cheese, carrots and cucumbers—or a hot dog octopus, swimming across a sea of cucumber. Picky eaters or not, they'll try it.
In Everyday Bento, author Wendy Thorpe Copley takes the traditional Japanese concept of bento—a single meal packed at home in a reusable container—and Americanizes it. Using simple ingredients found in any grocery store, Wendy creates entertaining meals that are sure to delight even the most finicky eater. Some of the fun and easy bento creations here include:

Princess Bento
Rock and Roll Bento
Snowman Bento
Butterfly Bento
Farm Yard Animals Bento
Besides being great fun to look at, bento lunches are a healthy way to enjoy food while keeping portions in check. Freshly-prepared lunches packed in portable, reusable boxes are also kind to the environment and easy on the wallet—very important in today's economy. Everyday Bento teaches you a few simple techniques to make creative lunches, all in a reasonable time-frame for busy working parents. Make lunch fun again with Everyday Bento.
About the Author
Wendy Copley was first introduced to the art of bento when her husband gave her a bento box on a cold Christmas morning. Since that time, she has packed thousands of bento lunches for her family which she showcases on her popular blog Wendolonia.com. She lives in Northern California with her husband, two sons and an over-flowing bento supply cupboard.
About Tuttle Publishing
Established in 1948 by Charles Egbert Tuttle Jr. in Rutland, Vermont and Tokyo, Japan, Tuttle Publishing is the premier publisher of English language books on Asian culture. Today, Tuttle maintains an active offering of books on a wide range of topics, including Asian culture, Asian literature, Asian architecture, Eastern spirituality, gardening, cooking, martial arts, crafts, travel, health and wellness, and fine art for a worldwide audience. For more information, visit http://tuttlepublishing.com.