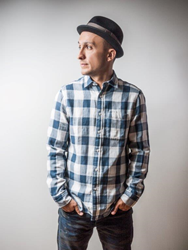 VICE stated: "Excited to share my music with the world through Music Choice. I was honored when the network approached me to launch their Weekend Takeover with a DJ Residency that allows me to showcase my signature genre bending!"
New York, NY (PRWEB) February 27, 2014
Music Choice today announced the launch of its inaugural DJ Residency program on the very popular Dance/EDM Music Channel. Kicking off the program on Saturday, March 1st from 8pm ET- midnight will be DJ extraordinaire VICE. Internationally known for creating his high energy, genre bending music experience, VICE holds down club residencies in Las Vegas, Los Angeles, New York and Miami. His skill as a DJ, industry integrity and state presence has led to relationships with A List artists, producing and collaborating on remixes for musicians such as Linkin Park, Tegan & Sara, Rihanna and Capital Cities. Music Choice's Dance/EDM Music Channel attracts over 1.4 million listeners weekly and is available in over 50 million homes.
As part of the residency program, Vice will be taking over Music Choice's Dance/EDM Music Channel every Saturday night in March from 8pm ET- midnight. Vice will provide a four hour block of mixes each week featuring some of the hottest dance artists including Calvin Harris, Nicky Romero, Hardwell, and more. In addition to the music, customized facts and photos of Vice will appear on screen to accompany the music mix.
VICE stated: "Excited to share my music with the world through Music Choice. I was honored when the network approached me to launch their Weekend Takeover with a DJ Residency that allows me to showcase my signature genre bending!"
While he's still a young man, Vice is also an industry veteran approaching his 20-year mark. The LA native discovered his passion for spinning records at the age of 12, when he bought his first turntables. DJ Vice's first big break came in 1998, when he started DJ'ing on LA's Power 106 for a listenership of 1.6 million. In 2002, Vice saw new opportunities emerging in Las Vegas at the huge clubs that were starting to open and left his radio job. He began with a residency at Body English in the Hard Rock Hotel and later moved to the mega-club Tao, where he still has a residency. The move to Vegas has been a huge game-changer for him, exposing him to an international audience. Vice has now played all over the world, including Shanghai, London, Singapore, Hong Kong, Norway, Germany and Istanbul.
Additional DJ's will be announced throughout the year. To listen to the Takeover Block online visit: http://bit.ly/MCDanceEDM.
About Music Choice:
Music Choice, the multi-platform video and music network, delivers its music programming to millions of consumers nationwide through their televisions, online and mobile devices. Music Choice programs dozens of uninterrupted music channels; produces originals that feature today's hottest established and emerging artists; offers thousands of music videos; and launched Music Choice Play, the music video, lifestyle and entertainment network for Millennials. For additional information log on to http://www.MusicChoice.com | Twitter: @MusicChoice | Facebook: http://www.facebook.com/MusicChoice.