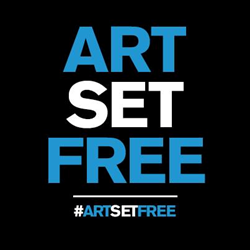 Art is one of the few forces in the world that lovingly can change your life in an instant, forever.
New York, NY (PRWEB) February 27, 2014
Broadway legend and Tony Award winner Brian Stokes Mitchell has joined hundreds of artists from around the world to celebrate public art in Art Set Free, an unprecedented global arts showcase that aims to create the world's largest collection of public art over the next year. Acclaimed for presenting hundreds of exciting, world-class cultural experiences for free to hundreds of thousands of people each year worldwide, Arts Brookfield launched Art Set Free in October 2013 to celebrate its 25th anniversary and offer the opportunity for artists of any level anywhere to have their work presented to an international audience on ArtsBrookfield25.com and at Brookfield's premier commercial properties in New York, Los Angeles, Denver, Houston, Toronto, and Perth.
Brian Stokes Mitchell, who performed in 2009 as part of the River to River Festival at Brookfield's Winter Garden in New York City, recently filmed a message for Art Set Free encouraging artists around the world to "set their art free" with the hashtag #ArtSetFree on Facebook, Instagram or Twitter.
"Art is one of the few forces in the world that lovingly can change your life in an instant forever," Stokes Mitchell said. "Arts Brookfield is important because the arts are important. You're freeing that thing that's inside you, that perhaps has been cooking for days or weeks or months or years. For that to be in a free space, where people are accepting that art freely as well, is important. Everybody is deserving of great art."
Since its launch, Art Set Free has collected over 4,000 works of art from over 900 artists worldwide who submitted their sound, visual and performance art on social media with the hashtag #ArtSetFree. The Art Set Free microsite, ArtsBrookfield25.com, is updated in real time and features work from artists in more than 200 cities in 36 countries. Every six weeks, Arts Brookfield selects 10 artists who are featured in a series of Best of Art Set Free video installations presented at select properties. The first digital art installation is currently onsite at Brookfield Place New York. In the coming months, video installations are expected to launch in Los Angeles, Denver, Houston and Toronto.
"Brian Stokes Mitchell is one of the greatest talents of this generation, and we are honored to have him participate in Art Set Free," said Debra Simon, Vice President and Artistic Director of Arts Brookfield. "For 25 years Arts Brookfield has 'set art free' for the public with free cultural experiences at Brookfield's premier properties throughout the world. In celebration of our 25th Anniversary, we wanted to engage the global arts community. We hope artists working in all genres will be inspired by Mr. Stokes Mitchell to make the world their stage and set their own art free."
Other artists who assisted in launching the global Art Set Free showcase include Executive Artistic Director of New York Live Arts and Tony Award winner Bill T. Jones; action architect Elizabeth Streb; and the acclaimed vocal ensemble The Tenors.
To participate in Art Set Free, artists capture their work in a photo, video or audio recording; and then share it on Facebook, Twitter and/or Instagram with the hashtag #artsetfree. Entries are welcome from any genre, including dance/movement, music/sound, painting, sculpture, photography and street art. Arts Brookfield reviews submissions on a rolling basis and curates the best pieces for display at select Brookfield buildings around the world and on ArtsBrookfield25.com, potentially reaching an audience of millions.
Images, videos and sound recordings of artwork for Art Set Free may be submitted by individuals or organizations. Submissions should be creative, innovative and inspiring, and all entries must follow the Art Set Free Terms and Conditions available at ArtsBrookfield25.com. To learn more about Arts Brookfield and Art Set Free, visit http://artsbrookfield25.com/.
About Arts Brookfield
Arts Brookfield presents exciting, world-class cultural experiences to hundreds of thousands of people for free each year in both indoor and outdoor public spaces at Brookfield's premier office properties in New York, Los Angeles, Denver, Houston, Toronto, Perth and Sydney. From concerts, theater and dance to film screenings and art exhibitions, Arts Brookfield brings public spaces to life through art.