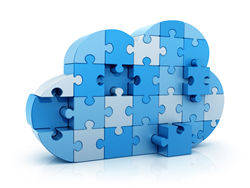 In order to think out cloud, the business needs to move past the traditional and rethink the way it consumes technology.
Herndon, VA (PRWEB) March 04, 2014
Windward IT Solutions, a niche consultancy focused on empowering our customers to design, deploy, and manage both traditional and next generation global networks and data-centers, announced the release of a new white paper that cracks the code of deploying Cloud. In order to think out cloud, the business needs to move past the traditional and rethink the way it consumes technology.
Implementing Enterprise Cloud Management Capabilities discusses why deploying cloud is harder and more complex than one would think, and what happens if it is wrong (spoiler alert: it's a really expensive mistake). What makes this new approach different is the understanding that companies need to start off on the right foot by establishing a proper strategy predicated on each customer's existing environment, and creating a long-term plan that begins with a clear understanding that Cloud management is not an out of the box or turn-key solution. Indeed, effective Cloud management requires a custom fit for each organization – contrary to what many vendors might be saying. Cloud is a long-term, transforming strategy – short cuts are risky!
Still not convinced? Considering the following questions:
1. Are there clear expectations of what end-users really want from a cloud service?
2. Does the IT organization clearly understand their role and are they bought in?
3. Is there a clear blueprint for a cloud approach and accurate ROI?
4. Is there a plan for migrating legacy applications to the Cloud?
5. Are vendors providing clear solutions, as opposed to pretty "slide-ware?"
"Windward truly recognizes that each customer is unique in their journey to the Cloud," said John Scott, VP of Strategic Development. "We advocate for every customer a vendor agnostic approach predicated on what they want to achieve from the cloud and based on where they are starting from. Our ability to quickly assess a client's current state helps to quickly develop a plan on how best to drive toward the envisioned future state while delivering incremental value at every step in the process."
Check Out the Full White Paper Here
ABOUT WINDWARD IT SOLUTIONS
Founded in 1997, Windward IT Solutions is at the forefront of Service-Centric IT. With strategic consulting, unparalleled technical expertise, and our proven Windward Service-Centric IT Roadmap, we help our clients align the core competencies of process, organization, information, and technology to effectively address business and mission priorities. Windward offers a proven set of technology-independent solutions focused on the three core disciplines of Service-Centric IT – Service Management, Infrastructure Management, and Operations Management – to help our clients plan and deliver high-impact IT services. Windward is headquartered in Herndon, VA. More information on the company can be found online at: http://www.windwardits.com.