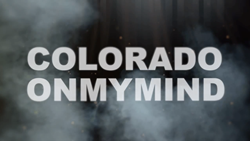 They'll back it when our corporations can trade it. They'll back it when their bank statements inflated.
Norwalk, Ct (PRWEB) March 03, 2014
Throwing their support to the national movement dedicated to the legalized use of marijuana, producer Kenny Cash, Handsome Money Music recording artist Muz Vora, and Slipknot/SRG artist Sid Wilson collaborated to record the song "Colorado on My Mind." This Hip Hop song is featured in a lyric video directed by Charles Winthall, released this week on You Tube: http://youtu.be/pfvvCnBLAVs
Inspired by the recent change in legislation titled Amendment 64, allowing for recreational use of marijuana in the state of Colorado, Cash and Wilson recorded the song with Vora, who scripted the verse. A developing artist on the Handsome Money label, Vora has quickly become recognized as highly skilled and intelligent lyrist: "They'll back it when our corporations can trade it. They'll back it when their bank statements inflated."
Norwalk, CT-based Cash is a graduate of the Berklee School of Music. He recently signed an exclusive licensing deal with Hitcher Music and is a co-owner of Fairfield, Ct-recording studio Factory Underground. Cash composed the music and melodic chorus sung by Wilson after recent trips to perform in Colorado.
"This was the first time somebody wrote something specifically for my voice," Wilson remarked in an interview on BReal.TV, a website geared toward music and "cannabis culture." Wilson, better known as "#0", the "turntablist" of Grammy Award winning heavy metal group Slipknot also writes and performs under the name of his alter ego DJ Starscream. In related news, Des Moines, IA-native Wilson has just signed a recording contract with Norwalk, CT-based Sono Recording Group and their exclusive distribution partner Spotify.
Sid Wilson will perform at a showcase for Sono Recording Group in Austin, TX on March 14, 2014 (4pm) during the SXSW music conference. Producer Kenny Cash will perform at the event as a special guest of alternative rockers SRG-artist Edisun(3pm), to be held at the Dirty Dog (505 E. 6th Street).
A promotional campaign for the song "Colorado on My Mind" by Handsome Money Music and BR4NDNEWmedia will lead up to the 2nd Annual High Times magazine Cannabis Cup event to be held in Denver, Colorado on April 19-20, 2014 (4/20).