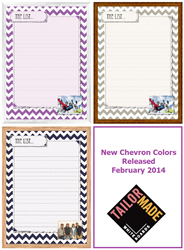 Arvada, Colorado (PRWEB) February 27, 2014
Tailor Made Whiteboards, innovator of custom dry erase boards, released three new color options in the popular "Chevron" design this month. The new colors – Navy, Radiant Orchid, and Tan – are currently available for purchase on the Tailor Made Whiteboards website in the company's whiteboard Calendars, Menu Planners, Chore Boards and multi-use Free Form board product categories.
The "Chevron" design is one of the most popular Tailor Made Whiteboard design groups, and the new colors will be joining the current color selections – Chartreuse, Gray, Brown, and Black. The new colors were picked to highlight the current home decorating colors of the season. Tan is always in style in the interior design world, as an easy-to-use neutral, and would match all of Tailor Made Whiteboards frame choices – Maple, Walnut, Oak, Black and White – beautifully. Navy is one of the top home decorating colors for 2014, and the Navy and White "Chevron" print is wonderfully sharp and bold and can bring a nautical touch to your home whiteboard. And lastly, Radiant Orchid is Pantone's 2014 color of the year, combining pink and purple to create a vibrant color with warm tones.
"Tailor Made Whiteboards likes to offer our customers new color selections for our custom whiteboards seasonally to keep up with the interior design trends of the moment," says Becky Roche, Marketing Manager for Tailor Made Whiteboards. "The wonderful Quick Change Frame feature, unique to our whiteboard products, allows customers to swap out their graphic panel insert so that it's easy and inexpensive to change the look of the whiteboard with the season."
Tailor Made Whiteboards currently has over 75 designs and five different product categories of home use whiteboards, including Calendar whiteboards, Chore Boards, and Menu Planner whiteboards. The new "Chevron" colors are available in the company's Calendars, Menu Planners, Chore Boards and Free Form Boards.
###
Tailor Made Whiteboards makes high-quality dry erase boards to organize the activities of hectic households. The company's whiteboard Calendars, Chore Boards, and Menu Planners can be personalized to match any home's unique décor, and can be easily changed and updated over many years of use without ever buying a new one. All the company's products are built in the USA and guaranteed to wipe clean and remain stain-free over many years of use. For more information call 1-888-280-9494 or visit http://www.tailormadewhiteboards.com.