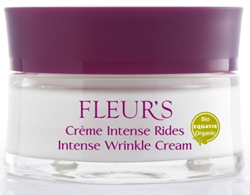 This eco-friendly, anti-aging cream brings radiance to the complexion for smoother, more supple skin.
Saint-Malo, France (PRWEB) February 28, 2014
Now available in spas in the United States and at http://www.lespausa.com.
Fleur's Intense Wrinkle Cream is an organic solution to soften the signs of aging. Wrinkles appear less deep thanks to Hyaluronic Acid that works to stimulate cell cohesion and maintain skin hydration for a denser, firmer appearance. Youthfulness is preserved with Marine Samphire Oil while Blue Everlasting Extract and Rosemary provide powerful antioxidant properties. Finally, Strawberry Seed Oil is formulated as a key ingredient due to its anti-aging, protective powers. Intense Wrinkle Cream has a velvety texture and a delicate floral, fruity scent. This eco-friendly, anti-aging cream brings radiance to the complexion for smoother, more supple skin.
Fleur's Intense Wrinkle Cream, 50 ml, suggested retail price $66.00
Directions for use: apply morning and evening to face and neck.
Key ingredients:

Hyaluronic Acid - helps stimulate cell cohesion and collagen synthesis to promote denser and firmer skin. Helps maintain skin hydration.
Blue Everlasting Extract - powerful antioxidant, UV protection.
Marine Samphire Oil - smoothing, stimulates cell renewal, densifying effect.
Strawberry Seed Oil - known for its anti-aging, revitalizing and protective properties.
Rosemary Extract - antioxidant.
Fleur's at a glance:
Fleur's translated into English literally means "flowers" and draws inspiration from ingredients that stimulate the senses and offer irreproachable quality and effectiveness. The Equavie Bio organic skin care collection within Fleur's is guided by a natural vision of beauty and an aim of authenticity. A natural, yet modern collection, Equavie Bio is environmentally conscious, without neglecting enjoyment and performance. We utilize a variety of natural ingredients and offer 100% sensory bliss. Guided by nature, Equavie Bio organic skin care is an environmentally conscious brand bearing the ECOCERT and COSMEBIO labels. A completely "green" collection, we unite cosmetic expertise, natural ingredients, sensory bliss and respect for the environment.