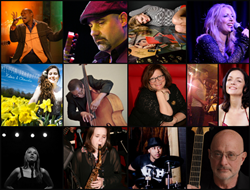 New York, NY (PRWEB) February 28, 2014
Moscow 57, the recently opened Russian Central Asian restaurant with live music, located at 168½ Delancey Street in Manhattan features a mix of live blues, folk, world music and jazz nightly. Partners Ellen Kaye, Ethan Fein and Seth Goldman have announced the restaurant's line up of regular musical performers. Other musical artists will appear throughout the week.
For the past two years, the company has been hosting its M57 Urban Salons, evenings of music, food and digital visual art displays, in Harlem, Washington Heights, Chelsea, the Upper East Side, the East Village, Governors Island, Connecticut and New Orleans. Moscow 57 has made New Orleans a home away from home, with regular forays into that city's world-renowned culture of Southern hospitality, regional cuisine, and world-class entertainment. After performing at and co-producing events with New York's Corcho Wine Room, as well as celebrating Latin American culture in New Orleans, this cosmopolitan attitude is being brought to Moscow 57's permanent home on New York City's Lower East Side every night.
The entertainment schedule includes: Tony Romano and Cleve Douglass, just back from a tour of Russia, and vocalist Cici James playing every Wednesday night; singer-songwriter Laura Foulke on Thursday nights; jazz vocalist Mary Foster Conklin and jazz saxophonist Andrew Rodriguez on Friday nights; jazz saxophonist Jordan Pettay on Friday and Saturday nights; and finally, emerging artist Hayley Biegel on Sunday nights. Each night, Ellen Kaye will be hosting and performing with the M57 Band: Ethan Fein, musical director and arranger, on guitar and banjo, Benjamin Franklin Brown on bass and Giomar Cepeda on drums.
Moscow 57 can be reached at (212) 260-5775 and at the company's website.
BIOGRAPHIES:
Hayley Biegel: Emerging Artist
Hayley has been studying vocal performance at New York University for the past three years, but has been singing and playing piano her entire life. She has performed in venues around the city and in the Westchester area and is featured in two upcoming musicals. Hayley writes her own songs when the mood strikes, and she hopes to record more original material in the near future. As she continues to be trained with a concentration in musical theater, she is also exploring different genres and enjoys performing everything from opera to jazz to popular music.
Mary Foster Conklin: Vocalist
Her voice is smoky with a tart twist of lemon. Her style has been described as recognizably traditional yet unmistakably contemporary, as she puts her personal stamp on a repertoire that spans over nine decades. She has appeared in theaters, jazz clubs and cabarets in the metropolitan New York area and throughout the United States and Canada. In New York, Conklin's talents have earned her a place on the stages of The Blue Note, The Iridium Jazz Club, Nuyorican Poets Cafe, The Metropolitan Room and the Triad Theatre. She can also be seen from time to time singing off various fire escapes as The Lady in the Red Dress with the notorious Renegade Cabaret. Visit Mary's website at http://www.maryfosterconklin.com for more info.
Laura Foulke: Singer/Songwriter
Laura Foulke wrote, directed and produced her first show at the age of six and has been chewing the scenery ever since. A singer/songwriter living on the Lower East Side, Laura has appeared in a wide variety of New York theaters and musical venues, including the Rodeo Bar, the Mercury Lounge, Arlene's Grocery, the Angel Orensanz Foundation, the Ludlow Cafe', and Windows on the World.
Cleve Douglass: Vocalist
Improvisational jazz vocalist Cleve Douglass began his vocal training in classical (operatic) vocal technique, then studied and worked in musical theater, which eventually led him to his passion: jazz and scat improvisations. His multi-cultural recordings embrace the styles of Bossa Nova, swing, Afro-Cuban, electronic, and standards from The Great American Songbook. After extensively touring and performing in Japan, Cleve brings an air of sophistication and retro-nouveau sensibility to a number of bands in New York City, appearing on dates at the Blue Note and NBC's "The Today Show."
Cici James: Vocalist/Writer/Producer/Science Fiction Bookstore Owner & EPublisher
Cici has been a part of the M57 Crew for over a year now – you can hear on our podcasts and on our upcoming M57 On-Air Urban Salon CD. They call her "torch siren," "dance diva," "punk princess," or even "dixie queen". Cici's headlined venues highbrow and low, from Lincoln Center to the dirtiest dive, and loved every second. Perennial front woman, occasional lyricist, and long-time member of the infamous Loser's Lounge, she likes to keep herself busy with projects like Steely Dance and a collaboration with EDM upstart Prince Fox. When she's not making music, Cici makes books. A co-founder of Singularity&Co, NYC's only bookstore dedicated to vintage science fiction and fantasy, she and the S&Co team also run an indie publisher devoted to republishing forgotten sci-fi stories for the future they helped us imagine - but only with permission from the authors or their estates. Join them at savethescifi.com.
cicijames.com/
Jordan Pettay: Featured Artist, Saxophone
Born in Kansas and raised in Texas, Jordan Pettay has been playing the saxophone since the age of eleven. She is an alumna of the Booker T. Washington High School for the Visual and Performing Arts in Dallas, which has produced many premiere performers such as Roy Hargrove, Norah Jones, and Eryka Badu, to name a few.
Winner of several Downbeat Student Music Awards, Jordan's experiences as a student include a residency at Jazz Aspen under the direction of Christian McBride, and participation in the Skidmore Summer Jazz Institute. In 2012, Jordan was the first student to be awarded the Gerry and Franca Mulligan Scholarship at the Juilliard School.
Jordan has had the great privilege of performing with the likes of Herbie Hancock, Christian McBride, Trisha Yearwood, Benny Golson, Terence Blanchard, Jeff "Tain" Watts, and Kurt Elling, to name a few, playing at venues such as Radio City Music Hall, the Apollo Theater, Dizzy's Club Coca-Cola, The Allen Room, Alice Tully Hall, The Blue Note, and Giants Stadium. Jordan has traveled both nationally and internationally, to countries including Japan, Korea, Costa Rica, and the Cayman Islands, performing and teaching with Juilliard Jazz.
Andrew Rodriguez: Musician/Live Music Curator
A member of the M57 family since last summer, and now curating M57 music series with the M57 team, Andrew Rodriguez has been with his horn since 4th grade. He is now studying music at Columbia University and has played in various settings, from musical pit orchestras to Indian-Jazz fusion ensembles. Trying to explore different sounds, Andrew attempts to find a balance between the traditional sounds of the old tenor masters and the new styles of today's innovators.
Tony Romano: Jazz Guitarist
Guitarist Tony Romano has been a vital part of the New York City music scene for over twenty years, and has had the privilege of touring, performing and recording with the world's finest musicians. Tony is an adjunct faculty member at Five Towns College, and a Teaching Artist for the Kupferberg Center at Queens College. He has an MA in Jazz Performance from the Aaron Copland School of Music at Queens College, CUNY. Recently, Tony toured Russia with his new album "Desert Flower," co-produced by Russian alto-saxophonist Lenny Sendersky. Joining him on the record are some of the finest jazz musicians in the world, including trumpeter Randy Brecker, vibraphonist Joe Locke, bassist Steve LeSpina, drummer Matt Kane and vocal improvisationalist (and Moscow 57 regular) Cleve Douglass, who also toured Russia with Tony.
Ellen Kaye: Nightclub Singer/Host/Entrepreneur
Ellen's singing career took off when she was booked at the original Monkey Bar. Performances at Carnegie Hall (with the New York Pops) and Town Hall followed, along with other NYC venues - the Angry Squire, Maxim's, Tatou, Surf Reality and the original LaMama, as well as at the The Bearsville Theater Lounge in Woodstock, The Silo in New Milford, Connecticut, and Holly Grove Market in New Orleans. Most recently, Kaye has been appearing regularly at noted jazz club The Iridium, and the Metropolitan Room. Ellen was invited to sing "When I Was a Boy," by Dar Williams, in the United Nations Delegates dining room for the March 2012 luncheon of the Metro New York chapter of UN Women.
Kaye's recordings are "Ice Wine - songs for Christmas and dark winter nights,""3AM…the dogs, the milkman & me,"2AM"and a single by Dar Williams "When I Was a Boy." Ellen performs on radio programs, including those on PRI, WNEW, WNYC and on WVOX/WRTN, where she also hosted The Ellen Kaye Show, and her recordings have been played from coast to coast on syndicated broadcasts.
moscow57.com/ekmusic.html.
Ethan Fein: Music Maven/Guitar/Banjo
Ethan is our Moscow 57 music maven and Ellen's accompanist and musical director. He has played guitar in concerts with Kristen Chenoweth, Bernadette Peters, Marvin Hamlisch, Cy Coleman, and Carole King, to name a few. Ethan also played in the Broadway shows "42nd Street," "West Side Story," "The Full Monty," and "Cats" for its entire run. Ethan coproduced Ellen's latest CDs "Ice Wine – songs for Christmas and dark winter nights" and the single "When I Was A Boy" with Seth Goldman and Ellen. He has just finished co-writing a new musical with Robby Merkin.
Benjamin Franklin Brown: Bassist
An accomplished bassist and composer, Ben Brown is one of New York's most distinguished musicians. Brown graduated from the University of Miami, and began working professionally with Barney Kessel, Mose Allison, Freddie Hubbard, Lou Rawls and Buddy Rich. In 1976, Brown began a three-year stint with the Dizzy Gillespie Quartet. Mr. Brown's credits include James Brown, Al Green, the Jimmy Heath Quartet, Harry "Sweets" Edison, Al Haig, George Benson, Tony Bennett, Mike Longo Trio, Gregory Hines, Ruth Brown, Blossom Dearie, and Lena Horne's "The Lady and Her Music." On and off Broadway shows include: "The Color Purple," "Sophisticated Ladies" (The Duke Ellington Orchestra), "Singing in the Rain," "Jelly's Last Jam" and "Thou Shalt Not" (Harry Connick, Jr.). Brown's movie credits include "Sweet and Lowdown," directed by Woody Allen, and "The Good Shepherd," directed by Robert De Niro.
Giomar Cepeda: Drums
Giomar grew up in Santo Domingo, where he began to play drums at church when he was sixteen years old. His passion for the instrument led him to discover diverse genres of music, such as Latin rock, pop, jazz. As a teenager, Giomar was greatly influenced by Latin rock acts such as Mana. He started the Latin rock band Tocando la Cruz (Touching the Cross) in 2004, and released the band's self-produced debut album "Final Batalla" the same year. In 2009, Giomar moved to New York City and started playing with different bands such as Madera Metal, Zeo Munoz, A-cam, Obrien Luna, Valentin Mesa, and the Moscow 57 Band. facebook.com/giomar.cepeda
The company is an ongoing supporter of a wide variety of charitable events, including Holiday House NYC, The New York Women's Foundation and The New Orleans Musicians Assistance Foundation. Moscow 57 Entertaining, created in partnership with Ethan Fein, is developing projects for film, television and theater. Its music company produces podcasts, live performances, recordings and videos. Moscow 57's first CD releases have already garnered national radio airplay, and the company's videos can be seen on the Moscow57Entertaining YouTube channel. The company's M57 podcast will be streaming live on Sunday nights.