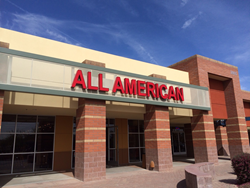 Chandler, AZ (PRWEB) February 27, 2014
All American Fine Outdoor Furnishings, a Luxury Patio Furniture Company Based in Scottsdale Arizona, is excited to announce the opening of its third valley location in Chandler. The New store is located in the Chandler Festival Shopping center on the North-East corner of the 101 and Chandler Blvd: 2860 W Chandler Blvd. Chandler, AZ 85224.
In honor of joining Chandler's great community, All American Fine Outdoor Furnishings has recently teamed up with FANS Across America; a Chandler-based, nonprofit organization.
"All American Fine Outdoor Furnishings, a forty year Arizona family operated business, is proud to announce the grand opening of our third showroom location in the City of Chandler," says Todd Singer, President of All American. "We have always prided ourselves on giving back to the communities we serve, so in conjunction with our new expansion with have joined forces with Fans Across America, a Not-For-Profit Organization dedicated to providing Homeless Children the necessary funding to continue their education. Together we hope to give our future leaders an education where they might not think they would ever be able to."
All American will be donating a patio set for Fans Across America's 2nd annual Bowling Event on Sunday, May 18 where the set will be a part of a silent auction were all proceeds go directly to assisting the less fortunate kids and families Fans Across America serves.
"Fans main focus is assisting Chandler Youth attending school who are classified as homeless, currently over 450," said George Macedon, Executive Director at Fans Across America. "We also assist Chandler Families in Transition who have children attending Chandler Schools. Our assistance is not only for the kids but family members as well. We assist with daily living necessities which includes infants to adult clothing and shoes, personal and dental hygiene items, hair care items, basic household items and cleaning supplies, backpacks and school supplies; basically all daily living necessities."
The official Grand Opening Celebration will take place Saturday, March 1st from 9am-6pm. Visitors can enjoy a 20% discount on any purchase as well as free delivery for any large item.
About All American
All American Fine Outdoor Furnishings is a family owned and operated business based out of the Greater Phoenix area. For over 40 years we've provided luxury patio furniture with a no-hassle family atmosphere. Our patio sets are built for comfort and long lasting durability. For more information, visit our online store: http://finepatiofurniture.com.