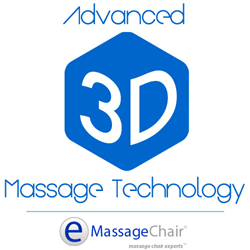 A 3D massage roller allows someone to control the depth and intensity of a massage by controlling the in and out movements of the massage head. This is very similar to a masseuse applying more or less pressure during a massage.
Las Vegas, NV (PRWEB) February 27, 2014
In recent years one of the biggest advancements to making a massage chair more lifelike was the development of a "3D Roller". A 3D massage roller allows someone to control the depth and intensity of a massage by controlling the in and out movements of the massage head. This is very similar to a masseuse applying more or less pressure during a massage. To put it simply a 3D roller can apply more pressure by pushing out, or less pressure by moving backwards. Most massage rollers are able to move up and down, and go wider or more narrow. To see exactly how this technology works, check out this 3D Massage Roller Video. A 3D roller is better for a wider range of users who want a softer or harder massage. Most updated chairs will be including this feature in future designs but a 3D roller is still considered a premium feature. We guess that over time as 3D technology becomes more common, the majority of chairs from lower cost to higher cost will provide this technology. Consumers are gravitating to chairs that have this feature which is and consider it more of a necessity than a nice to have.
We're going to look at the brands and chairs that currently offer this massage technology. It's important to note that through our research it's clear that not all 3D massage rollers are created equal. Some are smoother in their movement, more lifelike in the massage head design, and can apply more or less pressure. Below is an overview of the massage chairs that helped make this a standard, and some of the newer brands that have included it in their designs.
One of the original pioneers for a 3D massage roller is the Japanese based brand Fujiiryoki. They are celebrating their 60th anniversary as a massage chair manufacturer and early on they understood the importance of creating the most lifelike massage experience. Their premium chairs which include the Fujiiryoki Cyber-Relax EC-3800 and EC-3700 are widely known for their 3D roller settings. In the Cyber-Relax EC-3800 there are 12 different settings for the 3D roller, which is by far the most of any chair. This can be changed at any time during any massage and gives users of the chair the highest level of control. Because of this its easy to understand why Fujiiryoki is a top selling brand in Japan.
Not surprisingly Panasonic has also been an original pioneer in creating chairs with 3D massage rollers. They released this technology in 2007 and included it in their Real Pro Ultra Series. The EP-30005, EP-30007, and Panasonic EP-MA70 are all part of the Real Pro Ultra Series. These chairs have a very smooth massage roller and also several settings with the 3D roller. The EP-MA70, their most high-end chair has 5 different 3D settings as well as heated massage heads. A person can seamlessly adjust the strength of the roller during any massage style or program. Panasonic designed their chairs around a 3D roller making it part of the core massage experience, but also include several other added features like quality airbags and upholstery to enhance the experience as a whole.
The well-known brand Inada also includes a 3D massage roller in their Sogno Dreamwave massage chair. The Inada Sogno Dreamwave also has a complimentary airbag system to offer a user a complete relaxation experience. Since massage chairs are more commonplace in places like Japan it's no wonder that Japanese manufactured chairs have been using 3D technology in their chairs the longest amount of time.
Several other newer brands have also included 3D massage roller technology in their chairs. These brands are better known in the United States and have only included 3D rollers in their premium chairs. These include Osaki's OS-3D Pro-Dreamer, along with other chairs in their Pro Series. Johnson recently released a full line of chairs that are all designed around 3D massage rollers. These include the Johnson J6800, Johnson J5800, and J5600. Cozzia made a huge splash a few years ago when they released their Cozzia EC-618 massage chair, which includes a 3D roller. The Superior SMC-6850 massage chair also has a 3D massage roller. It's important to note that a chair that has a 3D roller still falls under the same limitations as other features. Primarily this revolves around the quality of the roller itself, the smoothness of the massage, and the amount of 3D adjustments. Some 3D rollers like the ones designed by Fujiiryoki have more settings and a higher quality design. Other 3D chairs with less options won't offer as much as the higher end chairs, and may lack in the quality of the 3D roller.
With all the different brands and features to choose from it can be confusing to shoppers on where they should start. A great place to learn more is with the Massage Chair Experts at Emassagechair.com. For visual learners there are a wide variety of massage chair videos on youtube, as well as written massage chair reviews.
Emassagechair.com is dedicated to being there for their shoppers and making the process for buying a massage chair an easy one. People with questions can call an expert by dialing 888.360.9996 or emailing support(at)emassagechair(dot)com.
Contact:
888.360.9996
support(at)emassagechair(dot)com
http://www.emassagechair.com