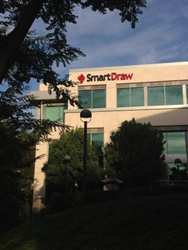 SmartDraw's focus on strong internal controls is evident.
San Diego, CA (PRWEB) February 27, 2014
SmartDraw Software, LLC announced today that it has successfully completed its Service Organization Control (SOC) 2 Type II audit for January 1st – December 31st, 2013.
"SOC2 audits are thorough independent assessments which provide confidence to our customers and partners," said Mark Sulzen, VP of Information Technology. "We place great importance on ensuring our systems are ready for mission critical deployment with organizations worldwide. Completing the Type II audit provides us with the opportunity to review our architecture and confirm the operational effectiveness of our controls, processes, and systems."
The audit was conducted in accordance with the AICPA SOC reporting standards. It was performed by SSAE 16 Professionals, LLP, a full service accounting firm that provides SOC 2 Type I and Type II audits.
"SmartDraw's focus on strong internal controls is evident in this report," said Tim Roncevich, Partner at SSAE 16 Professionals. "The successful completion of this audit is a testament to SmartDraw's integrity, accountability, and its commitment to its customers."
SSAE 16 Professionals evaluated SmartDraw's design and operating effectiveness of internal controls and processes related to the Security and Availability Trust Services Principles. The firm has found that SmartDraw has met or exceeded the expectations and is fully compliant to the standard.
About SOC 2 Reports
A SOC 2 report falls under the AICPA AT 101 guidelines and can also be either a Type I or a Type II. Whereas SSAE 16 (SOC 1) reports are used for audits of controls that impact a user organization's internal controls over financial reporting (ICFR), SOC 2 reports are intended for service organizations whose services do not impact ICFR. The typical users of a SOC 2 report will include prospective clients of the service organization, management of the service organization, and independent auditors providing services to the user organizations. The SOC 2 audit covers operational and/or regulatory compliance controls and follows pre-defined Trust Services Principles and Criteria.
About SSAE 16 Professionals, LLP
SSAE 16 Professionals, LLP is one of the nation's leading firms specializing solely in SSAE 16 audits and readiness assessments. Each of its professionals has over 10 years of relevant experience at "Big 4" and other large international or regional accounting firms. Each professional is certified as a CPA (Certified Public Accountant), CISA (Certified Information Systems Auditor), CIA (Certified Internal Auditor), CISSP (Certified Information Systems Security Professional), and/or MBA (Master of Business Administration). For more information, please visit http://www.SSAE16Professionals.com.
About SmartDraw
SmartDraw helps organizations of any size save time and achieve bottom-line results by providing easy-to-make charts, graphs and diagrams. SmartDraw visuals help to clarify communication, improve operations, implement plans and complete projects on time. The company's latest flagship version, SmartDraw CI, enables anyone of any skill level to quickly and easily create more than 70 types of diagrams including flowcharts, project charts, Kanban boards, org charts, floor plans and more. SmartDraw users can achieve professional-quality results in just minutes. Nearly all Fortune 500 companies use SmartDraw, as do more than 250,000 public, private and government organizations worldwide. Founded in 1994, SmartDraw is privately held, with headquarters in San Diego, California. For more information or to download a free trial of SmartDraw, please visit http://www.SmartDraw.com.