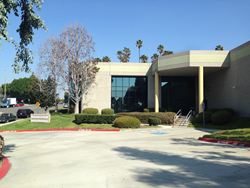 We see this as XTERRA WETSUITS and BOARDS World Headquarters. - Hearn
San Diego, CA (PRWEB) February 27, 2014
Best-selling triathlon wetsuit brand XTERRA WETSUITS announces that in March 2014, it will move its operations into a sprawling 22,000 ft2 complex just east of downtown San Diego. XTERRA WETSUITS and its sister brand, XTERRA BOARDS, will occupy the multi-functional property, which will house offices, a retail showroom, warehouse and product testing facilities.
XTERRA President Brandon Hearn states that the move was prompted by progressive growth in 2013, the acquisition of XTERRA BOARDS and extensive plans for continued product line expansion and partnerships in 2014 and beyond. "This move signals an exciting time for XTERRA," said Hearn. "We can't wait to get into the new space and let these brands really stretch their legs, we've got a lot in the pipeline right now."
An invite-only grand opening celebration will welcome XTERRA athletes and partners to the complex - located at 675 Gateway Center Way (San Diego, 92102) – the weekend of Ironman 70.3 Oceanside (March 29th).
"We see this as XTERRA WETSUITS and BOARDS World Headquarters," says Hearn. "This is the think tank, the testing ground, the conference room and the exhibition hall, all rolled into one."
About XTERRA WETSUITS
Guided by a commitment to comfort, speed, buoyancy and value, XTERRA WETSUITS has been producing the world's fastest wetsuits since 2001. Our sponsored athletes have the records to back up the fast talk – the world record for fastest wetsuit swim was set in an XTERRA wetsuit. XTERRA WETSUITS are designed, tested and sold by triathletes, for triathletes in San Diego, the birthplace of triathlon.
(http://www.xterrawetsuits.com/)
About XTERRA BOARDS
XTERRA BOARDS is built on our families' love of the water, swimming, SUPing and sense of adventure. Founded in 2013, XTERRA BOARDS mission is simple. We want to produce a product that paddleboarders of every age and skill level can have fun and exercise on. Unpack, inflate, enjoy.
(http://www.xterraboards.com/)
For media inquiries, please contact XTERRA WETSUITS Director of Marketing, John Murn - john(at)xterrawetsuits(dot)com.