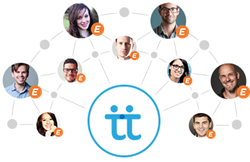 Events using our social platform have seen thousands of photos and messages shared, high engagement with likes and comments, and averages as high as 60 sessions per attendee over the course of a 3 day event.
San Francisco, CA (PRWEB) February 27, 2014
Attendify, a leading event app platform, is partnering with Eventbrite to boost attendee engagement by creating private social networking apps. Event planners can now connect their Eventbrite account to Attendify to build apps with a private social timeline, photo sharing, messaging, and attendee profiles that automatically sync with Eventbrite.
"Event apps have taken off in recent years, but most event planners struggle to see a return on investment or even get attendees to download their app," says Michael Balyasny, Attendify's Co-Founder & CEO. "They want app to boost engagement, help attendees network, and leverage the app for a more dynamic experience. Our partnership with Eventbrite makes that much easier to achieve."
Several new features were developed specifically for the Eventbrite integration including ticket scanning as a login method. Attendees can scan the barcode on their ticket instead of having to enter a username and password to login and start using the app. Event planners can also choose to sell tickets through their app and configure other integration settings using Attendify's web based management tools.
Attendify's mission of boosting engagement through event apps has caught on with Google, AstraZeneca, Philips, Bloomberg, American Express, and AOL who have all used the platform to create private networking apps for their events. "We're seeing attendees engage with the app days before events get started and huge usage spikes once it gets going," says Michael. "Events using our social platform have seen averages as high as 60 sessions per attendee over the course of a 3 day event with thousands of photos and messages sent."
Trying out an app and connecting Eventbrite is easy, with free registration on Attendify.com and instant preview tools that make creating and testing your app a breeze. The integration will continue to be enhanced with new features planned for the coming months to further leverage Eventbrite's leading registration platform.
About Attendify:
Attendify is a leading event application platform that makes it fast, simple, and affordable for event planners to create apps for conferences, tradeshows, and other events. Attendify has helped over 700 events and 5,000 event planners go mobile with apps that deliver attendee networking and event information in a convenient mobile platform. For more information and to get started building your app, visit http://www.attendify.com.
About Eventbrite:
Eventbrite has helped millions of people around the world to plan, promote, and sell out any event, and has processed over 130 million tickets. The online event registration service makes it easy for anyone to discover events, and to share the events they are attending with the people they know. In this way, Eventbrite brings communities together by encouraging people to connect through live experiences. Learn more at http://www.eventbrite.com.