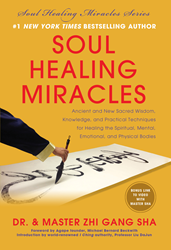 San Francisco, CA (PRWEB) February 27, 2014
New video testimony shows Donna Fenyes's personal story about how she practiced Dr. and Master Zhi Gang Sha's Soul Healing Miracles principles to attract and formulate a loving relationship with Jeff Vishwa Karma Russell. In the video, Donna tells how she and Jeff had numerous unsatisfying relationships in the past with other people, but after receiving a True Love Blessing from Master Sha, within a month Donna connected with Jeff for a lasting and loving relationship. Now three years together, both Donna and Jeff are thankful to Master Sha for teaching them how to find and sustain true love by working on their own spiritual journeys. " We both wanted to have a whole, pure relationship, " says Donna Fenyes in the video. "And here we are celebrating our third anniversary because of Master Sha." Watch Donna Fenyes' and Jeff Vishwa Karma Russell's entire personal testimony that they shared during the Love Relationships Show on the Chanting Channel Web TV about their true love story: https://www.youtube.com/watch?v=sQJomvoOXSQ.
The Soul Healing Miracles™ Chanting Channel is available anytime, anywhere via webcast television. Completely interactive and free, Master Sha's Chanting Channel provides viewers with opportunities for developing their spiritual journeys by learning to use chanting for healing and transformation, as well as ask questions, request blessings, and interact with Master Sha and his Worldwide Representatives anywhere in the world. For two weeks, viewers tuned into the Chanting Channel during February 14 through 28 to learn and the participate in their own soul healing journey with the new two week series for "Love Relationships." The show encourages viewer to participate in a community of soul healing and support from their own homes via this weblink: tv.drsha.com
Throughout history, chanting mantras has been one of the most powerful spiritual and energetic practices since humans have been on the planet. Chanting involves repeating special sacred vibratory sounds, mantras or songs for healing, rejuvenation, purification of one's life. In a recent Washington Post article, a senior lecturer in neuroscience was quoted saying that "the musical structure of chanting can have a significant and positive physiological impact and that chanting has been shown to lower blood pressure, increase levels of the performance hormone DHEA as well as reduce anxiety and depression."
In fact, chanting mantras has served millions of people for centuries and has been used in the African, Hawaiian, Native American cultures, as well as the Roman Catholic (Gregorian, psalms), Jewish (Cantillation), Muslim (Qur'an reading), Buddhist and Hindu religions for spiritual and healing arts, and ways in which people connect with God or the Divine. Today, billions of people recognize the benefits of chanting on the level of soul, heart, mind, and body.
For the first time ever, Master Sha bridges the world with a 24 hour a day, 7 days a week interactive Soul Healing Miracles™ Chanting Television Channel to teach others how to self-heal and join hearts and souls together to heal the world with soul-guided chanting through the teachings of sound therapy led by his Divine channels and advanced students.
Dr. & Master Zhi Gang Sha is the soul leader, a world-renowned master healer, and a divine servant. He is the founder of Soul Mind Body Medicine™. He was trained as a conventional medical doctor and a doctor of traditional Chinese medicine. The founder of the Institute of Soul Healing and Enlightenment™ and the Love Peace Harmony Movement™, Master Sha is a grandmaster of many ancient disciplines, including tai chi, qigong, feng shui, and the I Ching. Master Sha is also an expert in the most advanced cellular healing science now occurring in China. In the West, he is involved in breakthrough research on the effects of spirit on the human system. Dr. Sha was named Qigong Master of the Year at the Fifth World Congress on Qigong. In 2006, he was honored with the prestigious Martin Luther King, Jr. Commemorative Commission Award for his humanitarian efforts.
Dr. and Master Zhi Gang Sha has more than 100,000 followers on Facebook and an additional 250,000 devotees worldwide. The Soul Healing Miracles™ Chanting Channel fosters a soul healing community to learn and use chanting and soul songs for personal, spiritual, mental and soul development. Dr. and Master Sha's Soul Healing Miracles™ Daily Live TV airs everyday on Livestream, 9am PT, 12pm ET. Master Sha's national television show, The Divine Soul Song Series airs several times each week across the US, as well as worldwide on on TelosTv.com's worldwide digital network and http://www.DrSha.com. There are more than 1,200 Soul Healing miracle videos posted on Dr. and Master Sha's YouTube Channel (http://www.youtube.com/zhigangsha ), with over 1.1 million views. Everyday people all over the world are experiencing personal Soul Healing miracles and sharing their video testimonials so that others can benefit from these powerful and life-changing results.
Master Sha is author of more than 10 books published by Simon & Schuster (Atria Imprint) and his newest book series and book, Soul Healing Miracles (BenBella) released on November 12, was a national bestseller. Dr. Sha's most recent New York Times bestselling book, Divine Healing Hands (September, 2012) topped national bestseller lists within 24 hours of publication and his 2011 book, Tao Song & Tao Dance was also a New York Times bestseller. All of Dr. Sha's Soul Power books, DVDs and CDs, reveal soul secrets, wisdom, knowledge and practical techniques to transform every aspect of life, and are bestsellers throughout the world. Visit Dr. Sha on his website http://www.DrSha.com and http://www.facebook.com/DrandMasterSha to receive FREE daily Soul Healing blessings via webcasts, teleconferences and in-person at events held throughout the world.