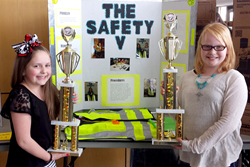 We never want to experience another tornado, but if we do, we will be prepared much better in the future.
Oklahoma City, Oklahoma (PRWEB) February 28, 2014
Two students from the Heritage Trails Elementary School in Moore, Oklahoma, a suburb of Oklahoma City near Rose State College, used personal experience to address a safety issue that all too many students in their town are aware of: tornado safety.
A number of schools were damaged and destroyed in the tornado that hit their town on May 20, 2013. Seven children died in the destruction of the Plaza Towers Elementary school alone—with 24 total deaths throughout the city. More than 100 survivors had to be rescued from the rubble throughout the city.
That's where the invention of 4th-graders Jadyn Waddle and Kylie Thompson comes in. It's called "The Safety V," a padded, hooded emergency vest to don when the weather turns dark.
Thompson and Waddle took top honors at Rose State College's 25th Anniversary Oklahoma Student Inventors Exposition on Tuesday, February 25. The Exposition is open to students in grades K - 12 in public, private, or parochial schools. The competition took place at the Performing Arts Theatre on the Rose State College campus in Midwest City. More than 3,200 students enrolled in this year's Exposition, though that number narrowed down to about 200 finalists, with a capacity crowd of parents, teachers, students and event judges. A majority of the event judges were Air Force personnel from nearby Tinker Air Force Base.
For the two winners, the competition was more than just fun. It was personal.
"My aunt worked at a daycare that was destroyed by the May 20th tornado, and her back was injured," co-inventor Thompson explained.
Perhaps more telling is the description of "The Safety V" in a neon-green flyer handed out by the youths at their display during the exposition. The flyer describes when the two girls had to take shelter with their families as the tornado bore down on their homes and schools.
"Being down in a storm shelter is scary..." the flyer states. "We were terrified. Once the storm started approaching, we could see dirt and debris flying through the air. We heard the sirens going off and lights started to flicker…we have used our experience with these deadly storms to create The Safety V. We want people to be prepared with the necessary essentials to save lives."
Brightly colored, reflective, hooded and padded, "The Safety V" also has attached a colored strobe light, an alert whistle, glow sticks, identification holders and other implements hopefully useful if the not-so-unthinkable occurs.
"We never want to experience another tornado, but if we do, we will be prepared much better in the future," the girls' flyer concludes.
In addition to their first-place trophies, the two inventors received $150 in prize money.
The event is a brainchild of former teacher and Rose State College Regent Betty Wright and Oklahoma City inventor/businessman Julian Taylor. Both wanted to provide a way for students to use their math, science and creative thinking skills to create inventions designed to help our society.
"It's hard to believe it's been twenty-five years," said Regent Wright. "Our purpose has always been, and remains, to foster creativity, problem-solving, inventive thinking, and ingenuity in students."
About Rose State College:
Rose State College offered its first classes on September 21, 1970. As a public, open admissions, associate degree granting institution, Rose State College provides higher education preparation for lifelong learning through programs and services designed to serve a diverse community. The college is located just minutes away from downtown Oklahoma City, and right off Interstate 40 and Hudiburg Drive. The campus includes twenty-five buildings on approximately 120 acres.