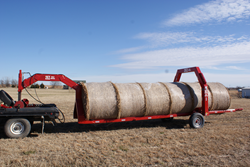 With the E2Z, I get hay off the field quicker... I save a lot of time, labor, and money loading and unloading bales with them.
Tulsa, OK (PRWEB) March 05, 2014
With more farmers and ranchers looking to work more productively, GoBob Pipe and Steel, a manufacturer of farm and work trailers that meet or exceed NATM and DOT requirements, has released a self-loading trailer called the 2EZ Bale Mover and an inline, side dump trailer called the Red Ox. The new bale mover and trailer help speed production and reduce labor costs.
While hay collection and moving has traditionally been a labor-intensive activity that required several days of work and a team of hands to complete, systems such as GoBob's self-loading/unloading hay trailers can turn a two or three-man job into a one-man job. The operator can stay in their tractor or pickup truck while loading or unloading bales.
This system uses a "power up, gravity down" design, with massive hydraulic cylinders to lift the rails to traveling height. When needed, the rails drop back down using only the force of gravity. A "lock out" system prevents the possibility of dropping hay bales too early.
"With the 2EZ, I get hay off the field quicker," said Edwin McLerran, who raises about 300 acres of hay and 100 head of cattle. "I bunch five bales in the field, and it's easy to move them several miles, set them down, and they're all rowed up, ready to go. I bring them to the hay bin, set them down, and I'm done. I save a lot of time, labor, and money loading and unloading bales with them. They're a must for handling hay."
The bale mover's design even allows old and mis-shaped bales to be transported with no further damage. Since its design keeps a single side of the bale in contact with the ground, it also saves hay by minimizing the number of bad hay spots caused by ground-absorbed moisture—another savings for the farmer or rancher.
"Before I'd bunch bales in sixes with my tractor's front-end loader, then load them on a trailer," says Arlyn Moon, who farms about 600 acres of wheat and hay and raises cattle. "Every time I'd come back to the field, I'd have to drive up to another bunch of bales, walk back, and get my tractor. But sometimes guys would want to buy 50 bales, which can be quite a chore if I have to haul them out of the field for them."
Besides an extra wide 5' frame for bale stability and double latches to reduce metal fatigue, the GoBob trailer uses more steel in the cradle, neck, axles, main tube, and rail supports for extra strength.
The GoBob Red Ox side dump trailer, and 11-bale trailer that is the largest inline hay trailer in the world, can also boost productivity by reducing the number of trips needed to clear a field. These trailers allow farmers and ranchers to leave their loader in the field, haul hay over fields or roads, and then dump it at their destination. GoBob offers side dump hay trailers in a range of sizes and capabilities, from 4 or 6-bale models all the way up to the Red Ox.
The Red Ox is an inline hay trailer that is street legal, unlike double row hay trailers, and safe for use as it does not restrict visibility. GoBob Pipe and Steel offers a complete selection of quality hay trailers, feeders, fencing, pipe and guards, designed to help farmers and ranchers save money and labor by working more efficiently.
For more information, contact GoBob Pipe and Steel at 1-866-532-9123 or visit http://www.gobobpipe.com.