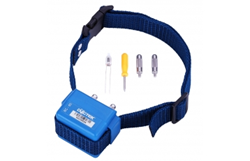 "I am a huge advocate of e-collars when they are properly used. They offer control over the dog in an effective, but stern way." - California Dog Trainer, Pete Stevens
Clearwater, FL (PRWEB) February 27, 2014
Many pet owners often struggle with training their dog to stop excessive barking. DOGTEK is pleased to offer the upgraded BC-60 Bark Control Collar, which emits a static pulse to condition the dog against constant barking.
The new DOGTEK BC-60 Bark Control Collar combines beeps with optional strong and weak static impulses for a proven correction. The DOGTEK BC-60 bark control device provides a humane but effective solution to help train your dog.
This e-collar has the ability to sense when the dog barks based on the vibrations caused by the barking, not the actual sound or noise of the barking dog. This is a great and unique feature since the collar can only be triggered by the dog wearing the collar, and never triggered by noises or barks from another dog barking around them.
The static corrections of the BC-60 are simple and not harmful; very similar to what a human would experience after rubbing their feet on a carpet and touching a metal doorknob. The beeping, before the static correction is discharged, is based on Pavlov's animal conditioning. Dogs often correct their barking behavior just based on the beeps the collar emits.
California dog trainer, Pete Stevens, said, "I am a huge advocate of e-collars when they are properly used. They offer control over the dog in an effective, but stern way. On more than one occasion I've seen dog handlers and trainers break out the e-collar to correct a dog's behavior, usually for certifications and have wondered why not have that kind of control all the time, even if you aren't a professional handler."
The upgraded BC-60 Bark Collar has three adjustable modes and comes with a replaceable battery with a six month lifespan. It is now lighter, weighing only 3 ounces and is completely weatherproof. It also comes with a one year warranty.
DOGTEK has several other effective training tools available on their website. DOGTEK® is the #1 brand of state of the art electronic Dog Training Products in North America & Europe. DOGTEK® is dedicated to bringing state of the art quality dog training products along with exceptional customer service. All DOGTEK® products are tested AND approved by veterinarians and dog training professionals. The wide experience their Research and Development Department means it can call on the latest technology and integrate unique systems. Each product is distinguished by its quality, innovation and remarkable performance.