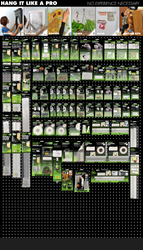 Hangman Products' new planogram for retail stores turns even the most inexperienced consumer into a do-it-yourself marvel.
Woodland Hills, CA (PRWEB) February 28, 2014
Hangman Products' unveiled a new planogram for retail stores this month that is guaranteed to turn even the most inexperienced consumer into a do-it-yourself marvel.
"The Hang It Like A Pro: No Experience Necessary" design features up to 60 Hangman products, displayed simply and clearly by use and need. Every single product is supported by simple-to-follow one-minute videos on the Hangman Products site.
Pictured here the display is 4' x 6' but can easily be modified and scaled down. The sign is 12" tall and 48" wide and inserts into metal channels above the gondola. The signs are created at Hangman and can be modified for any customer requirements, downsized to 2', 3' or custom sizes.
The planogram highlights Hangman's signature products including the best-selling Heavy Duty Picture Hanger, the Apartment Hanger line, which hangs art and decor with almost zero damage to walls, and the groundbreaking Elephant Hook, which has revolutionized ceiling hanging. Browse the display for poster tape, flush mount hangers, hardware for hanging, almost anything the consumer could need. Again, supported by instructional videos for every product.
The planogram is available by contacting Hangman Products.
About Hangman Products: Hangman Products creates hardware solutions for everyday needs. The multiple-patented Hangman Systems are carefully engineered to guarantee a safe and sturdy installation while promising to hang it level every time. Hangman's products range from Hanging Pictures, Hanging Mirrors, Hanging Framed Art, TV/Stereo Mounts and Safety to Garage/Slat Wall and Organization. They are designed to meet the installation requirements for retailers, consumers and manufacturers. Hangman's ever-expanding line of products can handle even the most difficult projects.