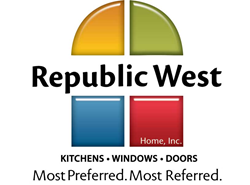 Homeowners today are more savvy than ever and we're thrilled that our experienced staff and design team has met the demand.
(PRWEB) February 28, 2014
Proving once again why they're the Valley's top home improvement company specializing in kitchen refacing, new windows, entry doors and now house painting, Republic West Home has set new marks for the month of January.
When looking at overall installations and revenue, Republic West Home is up nearly 35% year over year. It seems that a surge in the housing market as well as a comprehensive marketing campaign have contributed to the uptick in business.
"2014 has really started off well for our company," explained Linda Zimmerman, President of Republic West Home. "Homeowners today are more savvy than ever and we're thrilled that our experienced staff and design team has met the demand."
Boasting one of the Valley's nicest showrooms, Republic West Home is a step up from your everyday contractor. Those interested in visiting Republic West Home's state-of-the-art showroom and design center may do so from 9am to 5pm weekdays.
Republic West Home is a licensed, bonded and insured contractor servicing Scottsdale and Phoenix, AZ as well as all surrounding cities. Free estimates can be obtained by calling (480) 423-9300.
About Republic West Home:
Republic West Home is a company that stands for quality, honesty and the best value. Our vision, in an industry often lacking ethics and reliability, is to deliver the best home improvement experience possible.
To deliver the best possible experience before, during and after the completion of your project, an extensive team of professionals was put in place: employees driven to make the home improvement experience a great one for you, our customers. The formula works and the pleasant experiences we create for our customers have paid off. In an industry where repeat business averages less than 5%, Republic West Home and our 15,000+ clients generate an amazing 50% of our business from previous customers and referrals.
For additional information, please call 480-423-9300 or visit http://www.republicwesthome.com.
About Tank Paint:
In the never ending battle against the elements, Tank Paint is your newest ally. Once only available to high end contractors and the government sectors, Tank Paint has been uniquely engineered to provide a lifetime warranty against chipping, peeling and cracking and provides an impenetrable moisture barrier that truly acts like a coat of armor for your home. Tank Paint, now available to the civilian market is only available through their trained network of dealers.
For more information, please visit http://www.TankPaint.com.
Media contact:
Jason W. Jantzen
Phoenix Marketing Associates
http://www.PhoenixMarketingAssociates.com
602-282-0202