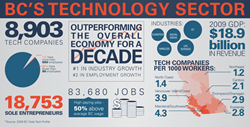 As Function Point continues to grow, we will have to compete both with Silicon Valley and other local giants.
Vancouver, BC (PRWEB) February 28, 2014
Function Point Productivity Software Inc, (fp.), leaders in creative agency project management is adding new staff resources to its team this year. In a company of this size, adding these 5 new positions is significant growth. Chris Wilson, Founder and CEO, says: "Although, we've been around for many years in the last two years we have hit our stride. We have recently doubled our size and are looking to add more team members this year. Three very capable people have already started since the beginning of 2014." Chris continued, "The steady growth we are experiencing is a testament to our current team and our professionalism in product design. Our goal is to stay ahead of the curve in offering unparalleled service in client on-boarding, support and product management."
When it comes to being a growing BC tech company, fp. is not alone. Vancouver is becoming a greenhouse for budding tech companies and BC is gaining serious street credibility for its technology sector, which as out performed the overall economy for the last decade – being the number one industry for growth and number 2 for employment, according to BCTIA. Some say Vancouver is starting to be known as the Silicone Valley of Canada – just like Robson Street, Vancouver is known as the Rodeo Drive of the North. Moreover, BC tech companies are using the province's beautiful backdrop to help keep and attract talent.
In such a growing market, competing for talent is becoming more and more of a challenge, especially with the Canada to US brain drain phenomenon. However, tides are changing and Canadians are coming back to Canada from Silicon Valley and new graduates have the opportunity to stay and work in their hometown. Two of fp.'s hires in 2013 were recent graduates who chose to stay close to home. Gary Wong, says he chose fp. because of the opportunity to work on challenging projects and the fp. lifestyle is great. Although large tech firms have the cache, smaller firms like Function Point are competing on the lifestyle level. "At fp. we understand that change is constant and can be a lot of fun," says Chris Wilson, pointing out that "As Function Point continues to grow, we will have to compete both with Silicon Valley and other local giants." Function Point hopes to keep its edge with its "small firm" feel and offering young graduates the opportunity to work on challenging projects in a growing company, while also allowing team members to enjoy benefits such as flex time, company activities and making personal goals synonymous with the company's purpose. If you are interested in working for fp. keep an eye on our website at postings at functionpoint.com/join-us.