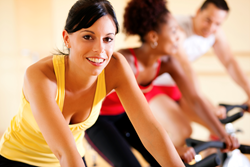 Burbank, CA (PRWEB) February 27, 2014
Just in time for the fitness season, owners of low impact fitness studios that focus on activities like Pilates, Yoga, Zumba, etc., can obtain a customized suite of insurance policies. These are designed to protect fitness club business owners from the exposures and risks they face in their premises day after day.
While it's great that people flock to these establishments at this time of the year, the studios take on liability that if effectively presented in a claim that is not covered, could significantly impact any assets and goodwill the center has established. This could even include the owner's personal assets.
For example, if a patron hurts him or herself while performing an exercise taught (properly or improperly by a covered individual) that person could make a claim for bodily injury. If that happens, these liability coverages would not only pay for any medical bills resulting from the situation but take care of all expenses for any legal defense that needs to be presented. The coverage also includes payment of any damages mandated by the court.
"Professional liability for a fitness center owner would extend protection to any errors and omissions that occur. We are offering both general and professional liability programs—so any coverage gaps are taken care of," said a spokesperson at the Burbank, California based USA Business Insurance. "In addition, abuse and molestation coverage is available."
With a fitness center being a public place where a lot of personal activity occurs, this insurance can bring the savvy business owner much needed peace of mind.
About USA Business Insurance
All of the professional and general liability insurance programs offered by USA Business Insurance, including these that are designed for low impact fitness center owners, are customized to the exposures faced by each class of business.
For more information visit http://www.businessinsuranceusa.com.