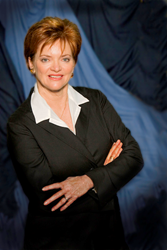 Each sale is like dressing a wound that's slowly healing... I'm advising my clients to commit now. The longer you wait, the more likely you are to face higher interest rates and prices." Rebecca Kelihoomalu
Kamuela, Hawaii (PRWEB) March 15, 2014
The Great Recession hit Hawaii hard and real estate was one of the hardest hit industries. Property values dropped as much as 40% in Hawaii, flooding the market with foreclosures that brought the market to a virtual standstill. To survive as a real estate agent during those days was a testament to one's talent, experience and client loyalty, strengths that Rebecca Keliihoomalu has in abundance.
That Rebecca Keliihoomalu is MacArthur Sotheby's International Realty's 2013 top producer is no surprise. Before starting her Big Island realty career in 2003, she was a successful business woman in the fashion industry whose talents included multiple store ownership and management, product development, design and international marketing. Her business acumen served her well in the transition to real estate where she very quickly established herself as a Top Producer at the #1 Luxury Real Estate agency on the Big Island. Now an industry veteran, Rebecca is recognized as a market expert but such respected organizations as the Wall Street Journal and Hawaii Business Magazine, and she has been featured on the HGTV network.
When asked about the state of the Big Island's real estate market, Rebecca gives sound advise for those looking for a home or investment, "Over the last year [2013] we've seen a substantial amount of recovery with sales of single family residence jumping up over 16% on the Island of Hawaii. We aren't expecting that kind jump for 2014 - our best predictions are around 5% increase of sales along with a slow but steady rise in property values as our inventory continues to tighten."
"We also have to remember how far we fell in the recession. Each sale is like dressing a wound that's slowly healing and getting better each day. I think it's till very much a buyer's market and I'm advising all my clients to commit now. The longer you wait, the more likely you are to face higher interest rates and prices and with less inventory. Waiting only gives you less choice and less buying power."
MacArthur Sotheby's International Realty is proud to recognize Rebecca Keliihoomalu as our Top Producing agent of the year for 2013. For more information on the Big Island luxury real estate market, Rebecca Keliihoomalu, R(B,) can be reached at rebecca(at)macarthurhawaii(dot)com or by calling her at 808.895.1156.
MacArthur Sotheby's International Realty is a boutique Hawaii real estate company offering the best in customer service with the Sotheby's global marketing reach of over 600 offices in 46 countries. MacArthur serves the Big Island with offices on the Kohala Coast at Kings' Shops (808) 633-8646, in Kailua Kona at the Keauhou Shopping Center at (808) 331-3131, and in Waimea at Parker Ranch Square at (808) 885-8885. It's also the exclusive sponsor and administrator of the popular 'Big Island – Hawaii' Facebook page, showcasing the Big Island lifestyle and adding another 84,000 members to the MacArthur global audience.