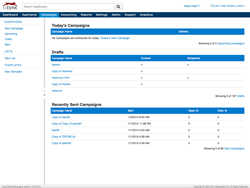 One huge advantage of our tool over any other competing product is that it seamlessly taps into the robust consumer data that agents have in their EZLynx accounts
Flower Mound, Texas (PRWEB) March 04, 2014
"EZLynx Bulk Campaigns is the latest addition to EZLynx Agency Suites as we continue to grow our agency-in-a-box solution." said David Taylor, VP of Product Integration at EZLynx. "One huge advantage of our tool over any other competing product is that it seamlessly taps into the robust consumer data that agents have in their EZLynx accounts, allowing them to focus on demographic, geographic, and line of business list building for targeted email messages that simply aren't possibly without this seamless integration."
With all the valuable consumer information available in each agency's EZLynx account, EZLynx Bulk Campaigns makes it simple to create well defined email lists based on specific criteria, such as age, line of business, annualized premium and more. With over 80 pre-designed templates, agents can easily add their own custom, targeted message to take advantage of numerous cross-sell, up-sell, and sales nurturing opportunities.
"With this first release, EZLynx Bulk Campaigns is a powerful marketing tool," Taylor continues, "and with future releases to include additional templates, new ways to filter your consumer data, and even more powerful ways to customize and personalize the email messages, EZLynx Bulk Campaigns is only going to get better."
To learn more, visit ezlynx.com or call 877-932-2382.
About EZLynx
EZLynx is an industry leader in property and casualty insurance solutions, with cloud-based agency management, comparative rating, client servicing, and digital marketing tools for the insurance agency marketplace. EZLynx pioneered the concept of real-time quoting and remains today the leading provider for independent agents. EZLynx processes more than four million auto, home and package transactions every month, offering a choice of rates from over 170 insurance companies in 48 states.