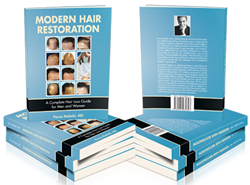 Los Angeles, CA (PRWEB) February 27, 2014
Dr. Parsa Mohebi described the latest advances in modern hair restoration techniques in his book, "Modern Hair Restoration," which included new breakthroughs in FUE and FUT hair transplantation. In addition to these advanced surgical procedures, the book offered in depth coverage on new medical treatments used to cure hair loss, and non-invasive treatments such as Scalp MicroPigmentation, which uses specialized pigments that mimics the look of real hair follicles.
Patients who read about the preparation, treatment, and recovery thoroughly documented in the book expressed how these technical tips helped them during their pre and post-operative periods. "Modern Hair Restoration" has been featured on the Hair Transplant Network, a popular social media site for men and women dealing with hair loss, where users praised it for offering a comprehensive analysis on the most recognized forms of hair loss and their corresponding treatments.
Dr. Mohebi decided to update the book due to the responses he received from his readers. The current edition covers essential information that is needed by a hair loss patient in order to be able to move forward with finding the best hair restoration option. The doctor expands on and addresses more urgent questions and concerns posed by his readers, which include more information about the outcomes of many new hair restoration studies.
The second edition is an invaluable asset for those readers who are considering the possibility of a hair transplant, or for those who want to learn more about the most advanced techniques of hair restoration. Dr. Mohebi emphasized the many possibilities that exist with today's technology, "The possibilities of Modern Hair Restoration are staggering. The options for treatment are more plentiful and diverse than ever before, to the point where anyone who may have given up on the idea of being treated for hair loss can now receive help." Dr. Mohebi is very optimistic that the second edition of "Modern Hair Restoration" will create even more interest in the evolving field of hair restoration for both men and women.
About US Hair Restoration:
US Hair Restoration was established in 2008 by Dr. Parsa Mohebi. As creator of the several methods and techniques in modern hair restoration, Dr. Mohebi and his staff provide the most advanced techniques in hair restoration. Dr. Parsa Mohebi proudly provides services in the Beverly Hills, Encino, and Orange County hair restoration centers in order to better serve all patients. The overall goal at US Hair Restoration is to restore patient's self-esteem through the use of quality hair restoration.