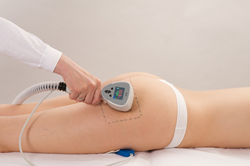 Our patients love Exilis!
(PRWEB) February 27, 2014
Precision Aesthetics in New York has a long history of non-invasive skin tightening and body shaping firsts. Lisa A. Zdinak, MD has spent her entire career finding non-surgical solutions for her International clientele. In fact Dr Zdinak was the first physician to offer Exilis non surgical fat reduction treatments in New York. Dr Zdinak commented, "when I met President Jan Zarsky in Europe at an International conference and he demonstrated the machine it was obvious that it was only a matter of time before Exilis would become one of the most popular treatments among my clientele." Indeed Exilis continues to win accolades among doctors and patients alike. The flexibility of the machine and the ability to treat multiple areas and the fact that the treatment is pleasant only contributes further to its success. In summation Exilis reduces fat, contours the body, tightens the skin and reduces wrinkles. Dr Zdinak went on to say, "Our patients love Exilis! "
Dr Zdinak should know since she was a long time provider of Thermage, another popular non surgical, skin tightening and body shaping device. She was the first practice in New York to upgrade to the Thermage 16.0 body tip, the NXT, the Thermage CPT face tip, and is the only Thermage Black Diamond and Pinnacle Award winner for over 7 years. Thermage still has its fans. Many International patients travel from all over the world to do their treatment with Thermage, since it consists of only a single treatment. Thermage excels when it comes to skin tightening and is still popular amongst those who prefer a single treatment, and Exilis is the go to machine for body contouring and body shaping. Often personalized protocols are designed where two or more machines are used to treat patients.
Dr Zdinak still spends the majority of her time bringing the best treatments and products from all over the world here to New York. In fact she has introduced more than a dozen procedures and protocols from other countries to New York and the United States. Most recently Dr Zdinak introduced Sepai skincare from Spain. One of her most recent introductions was Ultraceuticals, the leading doctor dispensed skin care line from Australia. Other firsts among technologies include, Mesotherapy and Cryotherapy from France, Illumiwave Lipocontour from Canada, Carboxytherapy for stretch marks and dark under eye circles from Brazil, and the genuine Dermaroller from Germany to name a few. Dr Zdinak sees her international clientele at 10 West 74th st in a very private office that does not even have a sign indicating that there is even an office there. The office was designed from the ground up to her specifications for maximum patient comfort and privacy. Each room was soundproofed and has a choice of surround sound or custom iPods for the patient's own music, individual climate control, ensuite sink, and spa style recliners.