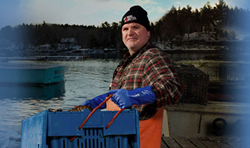 "We only source lobsters from down east in deep ocean waters in which the FDA has reported no mercury concerns." -Mark Murrell
(PRWEB) February 27, 2014
In a story reported by the Portland Press Herald, a long-term study led the Department of Marine Resources in Maine to close down lobster and crab harvesting in a 7-square-mile area of the Penobscot River region. According to reporters Dolan and Bell, the study indicated that lobsters in the area had higher mercury levels that what the state considers safe.
Since reported, news of this development has spread throughout the seafood consumer world, and has perhaps raised questions about Maine lobster in general. Local fishermen are worried about the damage the closure – and this reputation – will cause.
Mark Murrell, founder and CEO of GetMaineLobster.com, has addressed this issue directly.
"We never source our lobsters from rivers in Maine," said Murrell, "only down east in deep ocean waters in which the FDA has reported no mercury concerns."
Murrell stated that GetMaineLobster.com's lobsters are harvested in Milbridge and Stonington.
The Press Herald added that the closure of this area -- located where the river empties into Penobscot Bay -- represents a small fraction of the more than 14,000 square miles in the Gulf of Maine where lobsters are harvested.
To learn more about Maine lobster and Murrell's commitment to eco-friendly, sustainable lobster, visit GetMaineLobster.com.
About GetMaineLobster.com:
GetMaineLobster.com, a division of Black Point Seafood and Black Point Gourmet, hand-selects the finest Maine lobster, seafood and beef products for convenient distribution throughout the United States. Their passion is to make fresh, quality seafood readily available to customers across the country, which is why they buy from only the most trusted, well-established suppliers to ensure that they receive the finest products available.
GetMaineLobster.com was selected out of the more than four million small American businesses served by Chase bank to represent its new Platinum Business Checking product for its 2013 national advertising campaign.