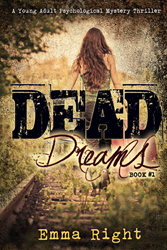 I am honored that so many have left incredible reviews for Dead Dreams.
San Francisco, CA (PRWEB) February 28, 2014
Once again, Emma Right's teen psychological thriller series, Dead Dreams, Book 1 receives spectacular reviews from reviewers of Reader's Favorite. Bestselling young adult thrillers author, Emma Right, an up-and-coming middle grade and young adult book author, promises a contemporary suspense mystery rivals the well-known collections like the perennial Nancy Drew. Receiving five and four star reviews from top Amazon reviewers and Reader's Favorites reviewers Dead Dreams takes young adult readers on a psychological roller coaster and promises tense moments fraught with suspense and mystery.
A summary of the fast paced fiction reads:
Dead Dreams, Book 1, for readers ages 14 and up is about eighteen-year-old protagonist, Brie O'Mara, who lives in the San Francisco bay area and at the cusps of adulthood, raring to prove her independence and maturity. Much is going for her: a loving family in the sidelines, an heiress for a roommate, and dreams that might just come true. Big dreams--of going to acting school, finishing college and making a name for herself. She is about to be the envy of everyone she knew. What more could she hope for? Except her dreams are about to lead her down the road to nightmares. Nightmares that could turn into a deadly reality. It is a story of what you don't know can really hurt you.
Ms. Right, stated, "I am thrilled and honored that so many have left incredible reviews for Dead Dreams. Young people need to see how even the best of teenagers with little flaws can make grievous mistakes. But all need not be lost." With the backdrop of murder and suspense Dead Dreams is written with a message for the young and the young-at-heart.
Emma Right believes that a young person need not make all the mistakes in life to learn the ropes of adulthood expertly. "That's where literature comes in and young adults can learn vicariously through characters in books they can identify and have empathy for," says Ms. Right.
Get more information on the best books for young adults on the emmaright.com website.
One reviewer, Dr. D Souza says this of the psychological young adult thriller: Put on your seat belts and vroom through this book as you will not stop until each page has been devoured and your questions answered. "Waiting for the sequel eagerly" is the state the reader is left in after reading this book.
"I hope the 'Dead Dreams' series will not only take teens on a suspenseful thriller adventure but subtly promote wise thinking and choices," stated Ms. Right. Providing young readers with the right books is like giving them the suitable tools needed for success in adult living. This will help young adults grow into the mature adults we hope our society will be populated with in the future.
About the author, Emma Right
Emma Right is a happy wife and Christian homeschool mother of five living in the Pacific West Coast of the USA. Besides running a busy home, and looking after her five pets, she also writes stories for children and is active in her homeschool community.
Right worked as a copywriter for two major advertising agencies and won several awards, including the prestigious Clio for her ads, before she settled down to have children.
Emma Right's 'Keeper of Reign' and 'Dead Dreams' are both available at Amazon.com and paperback wholesale interests may go to New Shelves Distribution, NY, USA, c/o Amy Collins Email: services(at)newshelves(dot)com
Phone: 518-261-1300
614 Fifth Ave, Troy, NY 12182.
Contact Information:
Emma Right
Leave your comments on Emmaright.com
or at emmarightt(at)gmail(dot)com
San Francisco , California, USA
Tel:650-4861231