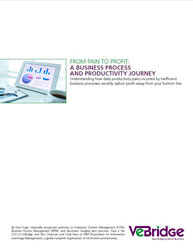 Lexington, KY (PRWEB) February 27, 2014
Paul Engel, a nationally-recognized business process and enterprise content management entrepreneur and industry leader, has released a new white paper to help organizations identify and address their hidden business process and productivity pains that are secretly draining profit from everyday operations.
"The era of addressing the 'low-hanging' fruit opportunities for improving business productivity are over," said Engel, the CEO and founder of VeBridge, a technology solutions and consulting firm that has addressed digital imaging, content management and business process issues for over fifteen years. "Executives are now having to look under the covers for the next wave of opportunities to improve efficiency and the bottom line."
Engel is the Chair-Elect of the Association of Information and Image Management (http://www.aiim.org), "The global community of information professionals who manage and share information assets in an era of mobile, social, cloud and big data."
Said Engel: "Our team has enabled senior managers to address these hidden process issues across several industries such as manufacturing, healthcare and insurance, and across various business disciplines such as human resources, accounts payable and operations. We felt it was time to document and share our best practices and innovations through an executive white paper and related 'Micro-Seminar' video series.'"
Pain to Profit: A Business Process and Productivity Journey is available as a free PDF download at http://www.vebridge.com. The paper includes:

How daily productivity pains secretly siphon off profit
The profit formula and how it applies across different industries and their unique operations
The building blocks of enterprise content management (ECM), business process management (BPM), e-forms and workflow and how they work together
How uncommon discovery techniques can help identify formerly hidden process and productivity pains
Video vignettes featuring Engel sharing unique process and productivity insights on specific industries and business disciplines can be found on the new VeBridge YouTube channel located at http://www.youtube.com/user/vebridge. Popular information snippets will be shared regularly at http://www.twitter.com/vebridge.
##
VeBridge is a technology solutions and consulting firm based in Lexington, KY, offering business process management (BPM), enterprise content management (ECM), digital imaging, e-forms and workflow solutions that relentlessly simplify, focus and enhance the daily connections between people, process and technology. VeBridge is a partner with leading software vendors in the industry such as Hyland, Digitech, and frevvo. Learn more at http://www.vebridge.com.