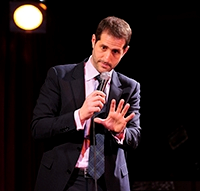 The Los Angeles Times raves that MODI is "quick on his feet," and "can improvise so nimbly that he keeps any audience laughing".
Owings Mills, Maryland (PRWEB) February 28, 2014
Israeli-American funnyman Modi, recently honored as one of the top 10 comedians in New York City by both The Hollywood Reporter and Backstage, will visit the Gordon Center For Performing Arts on Sunday, March 30, for a special night of comedy beginning at 7:30 p.m.
Tickets for the performance are $18 in advance (order online at gordoncenter.com or call 800.518.2819x2) and $22 at the door.
Lauded as "the next Jackie Mason" by the New York Times, Modi has become one of the comedy circuit's most sought-after performers both in New York and throughout the country. Amelia David of Backstage says that Modi reminds her of a young Sid Caesar, "with a talent for creating accents and characters," while the Los Angeles Times raves that Modi is "quick on his feet," and "can improvise so nimbly that he keeps any audience laughing."
In addition to his appearances at clubs and festivals throughout the world, Modi also has played leading roles in films and on television. His performance in 2004's "Waiting for Woody Allen" helped the film win the L.A. Film Festival, and he was cast as the lead in a CBS sitcom pilot created by actor Ben Stiller. Modi has also been seen on TV on CBS's CSI: NY, HBO's The Sopranos and NBC's Last Comic Standing.
Born Mordechai Rosenfeld in Tel Aviv in 1970, MODI moved to the United States at the age of seven. After graduating from Boston University in the early 1990s, he worked as a Wall Street investment banker before taking up stand-up comedy at the behest of his coworkers. He also studied music at Yeshiva University and serves as an occasional cantor at a Manhattan synagogue.
The Gordon Center For Performing Arts offers an eclectic variety of professional entertainment in music, theater, dance, family program and film, all in an intimate 550-seat setting with world-class acoustics. The Gordon Center is located on the Jewish Community Center's campus and is the cornerstone of a thriving arts and cultural program at the JCC.