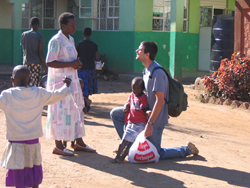 In the worst of circumstances, there are amazing people doing amazing things to better others' lives.
Phiadelphia, PA (PRWEB) February 28, 2014
What do Nyakatch, a town in rural southwestern Kenya, San Juan del Sur, a poor beach community in Nicaragua, and Germantown, a struggling neighborhood in Philadelphia, have in common? The obvious answer is that they are all places where people are suffering, testaments to whats wrong with the world.
But that is not how The Endeleo Project sees them. Started by David Hersh and Maureen Holland, Temple Law graduates, The Endeleo Project is a not-for-profit that aims to support great people doing great things around the world and to bring their inspiring stories to light. To Hersh and Holland, Nyakatch, San Juan del Sur, and Germantown are not evidence of a world gone wrong, but hosts for a more positive counter-narrative. In these places, three organizations are using education to improve the future for underserved populations. Helping them do it is the motivation behind a new campaign to raise awareness and, of course, money.
Explains Hersh, "So much of what we see in the media is negative. But in the worst of circumstances, there are amazing people doing amazing things to better others' lives. We want to highlight these people and support their work."
The campaign is built around the idea of crowd-funding: raising money and awareness by getting small donations from a lot of people. The Endeleo Project is using Crowdrise, a new non-profit minded platform, to tie together the stories of its partners and the human interest of endurance sports. Thus, the campaign's key elements are the Love Half Marathon in Philadelphia on March 30, and Challenge Atlantic City, an ultra-distance triathlon on June 29. The Endeleo Project recruits teams of runners and triathletes that fundraise through their own networks. Holland and Hersh will both run the half marathon, while Hersh will compete in the 140.3 mile triathlon. The latter effort has earned The Endeleo Project a generous sponsorship from the Swim Team Store, a national retailer, and it is pursuing more.
The Endeleo Project grew from Hersh's study abroad experience in Kenya in 2005. He traveled the country with locals, exploring the less visited parts of the country. "I came across these amazing orphanages that were saving children's lives, then providing them a first-rate education to brighten their futures. They were too small and remote for anyone in the United States to know they existed, but I was convinced that Americans would be inspired if they knew." In rural southwestern Kenya, Hersh met Hellen O'chieng, a former banker who built a school and orphanage called VISPA. VISPA became the pilot project for The Endeleo Project. Endeleo, pronounced en-duh-lay-o, is the Swahili word for progress.
The Endeleo Project raised funds to help VISPA serve more of its target population. VISPA now serves 2.5 times as many students as it did in 2008. Endeleo has since expanded both its portfolio of partners and its services. In 2012 it partnered with The Barrio Planta Project (BPP), a Nicaraguan NGO started by Philadelphia native Dyani Makous. BPP provides supplemental schooling to fill gaps in Nicaragua's inadequate public school system.
Says Hersh, "BPP allowed us to show that our model works in more than one context, but the partnership also taught us that great organizations need more than just financial support." Two critical needs are program evaluation, which most grant-makers demand but few local organizations have the capacity to do, and program planning, to ensure data is available to support evaluation. The Endeleo Project now offers these services to allow its partners to focus as much of their energy and resources as possible on core service delivery.
Most recently, The Endeleo Project has focused its efforts closer to home, partnering with the not-for-profit Face to Face Germantown. With Germantown's two public schools closing, the two charities are teaming to provide educational access to the neighborhood. The partnership leverages Face to Face's intimate relationship with the local community and The Endeleo Project's expertise in education program design and evaluation to develop afterschool and summer programs aimed at closing the achievement gap.
The goal of the new campaign is to raise enough money to cover Face to Face's educational programs, pay the expenses of BPP for a year, and buy two acres of land for a vocational farming program for VISPA's students. Any remaining funds will cover the costs of The Endeleo Project's services and allow it to vet potential new partners. The bigger goal, however, is to for people to think not of destitution and failure in Nyakatch, San Juan del Sur, and Germantown. The Endeleo Project wants them to think instead of Hellen, Dyani, and Mary Kay and the inspiring ways they serve their communities.