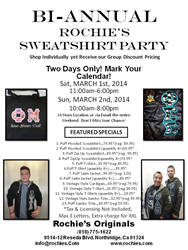 Our mission is "To bring inspiration and innovation to every student in the world. Create wowsome experiences and products so that shopping anywhere else becomes obsolete."
Northridge, CA (PRWEB) February 27, 2014
Rochie's Originals in Northridge is a privately held fashion collegiate apparel manufacturer with a retail store devoted to providing the best quality/craftsmanship, most personable customer care and highly desired timeless treasures to its clients. Due to the rising demand for top quality Greek letters, Rochie's Originals has announced yet another Sweatshirt Party during spring 2014 semester.
This event was created a year ago to give everyone in the Greek community all over United States the opportunity to purchase, at wholesale prices, the best in luxury Greek apparel to represent their respective houses. The price is good even on a single item. This is Rochie's way of giving back to their community and making sure everyone can afford to show their pride by wearing gorgeous Collegiate/Greek apparel.
With graduation around the corner, this event should serve as a prime opportunity for gifts or even the last set of personal letters. To participate in this event please visit the store during the special hours or send them an email.
Interested in connecting with Rochie's Originals? They can be found on Instagram, Pinterest, Twitter, Facebook.
Rochie's Originals is a licensed Greek Manufacturer operating under the same ownership since 1989.
For more information regarding this event please call the store directly at 818-775-1622