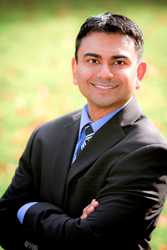 "I am very pleased that so many people find the book helpful in their daily lives," said Dr. Sanjay Jain. I truly believe that this book will be able to change lives and help people maximize the time their return on investment in life."
Washington, D.C. (PRWEB) February 27, 2014
Optimal Living 360: Smart Decision Making for a Balanced Life by Dr. Sanjay Jain was released on Amazon and Barnes and Noble on January 30th, 2014. Within a few weeks, the popularity of the book has driven it to reach the top 10 on Amazon for books covering the topic "Work Life Balance".
"I am very pleased that so many people find the book helpful in their daily lives," said Dr. Sanjay Jain. I truly believe that this book will be able to change lives and help people maximize the time their return on investment in life."
Optimal Living 360: Smart Decision Making for a Balanced Life introduces the Integrative Decision Making approach to life. Dr. Jain's approach focuses on the big picture as he guides readers through the process of isolating their core values using the ASPIRES model. By using his approach and model, he then explains how to improve aspects of life including health, money, and relationships among others.
Since its release, aside from its success on Amazon, it has also been critically acclaimed in Library Journal, Publishers Weekly, Foreword Reviews, Reader's Favorite, and many others. New York Times Best Selling Authors Keith Ferrazzi and Kimberly Foss have both also given strong praise to the new book. Comments about the book have included "Revolutionary" and "A must-read."
Dr. Jain is currently touring the United States for the book and more information on upcoming events can be found on his website.
About Dr. Sanjay Jain:
Sanjay Jain, M.D. MBA is an accomplished medical doctor, health expert, life coach, inspirational keynote speaker, and author who has dedicated his life to helping people find their purpose by achieving a meaningful life that they deeply cherish.
Sanjay Jain is a US trained, board certified physician with over 15 years of clinical experience. He holds certifications in Diagnostic Radiology, Integrative Medicine, and Healthcare Quality and Management. He is a graduate from the accelerated BS/MD program at The Northeast Ohio Medical University. He has diversified experience in the private practice, academic, and integrated multispecialty settings.
He was a former assistant professor at The Ohio State University where he also obtained his MBA at the Fisher School of Business. The combination of which has given him a unique voice and understanding of the many issues we face today in a real and practical sense.
Follow Sanjay on Twitter at @sanjayjainmd. His new book, Optimal Living 360: Smart Decision Making for a Balanced Life (Greenleaf) is available in stores now!