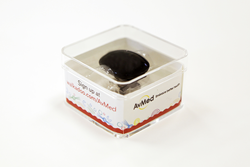 AvMed Medicare members are joining us on our collective journey to embrace better health and are seizing the opportunity to take more active roles in their own well-being.
MIAMI, Fla., and NASHVILLE, Tenn. (PRWEB) February 27, 2014
As part of its mission to help members live healthier, AvMed has become the nation's first Medicare Advantage plan to offer a unique, interactive walking program to its members. As part of an expanded partnership with global well-being improvement leader Healthways (NASDAQ: HWAY) and its award-winning SilverSneakers® Fitness Program, AvMed is now offering Walkadoo™, a pedometer-based walking program from Healthways' MeYou Health subsidiary. Walkadoo utilizes technology and social interaction to encourage physical activity in individuals of all ages. AvMed is issuing free Walkadoo-compatible FitLinxx Pebble® pedometers to all Medicare members who request them. As part of the new agreement, AvMed has also extended its SilverSneakers Fitness contract through 2016.
"AvMed Medicare members are joining us on our collective journey to embrace better health and are seizing the opportunity to take more active roles in their own well-being," said Winston Lonsdale, AvMed's chief Medicare executive. "Walkadoo is a perfect example of the kind of innovation we're offering to encourage these steps toward active lifestyles."
Walkadoo is a wireless "pedometer-powered" daily physical activity program recently launched by MeYou Health. Rather than simply encouraging individuals to count their steps, the program suggests realistic step goals that adjust and evolve as the software learns more about an individual's activity patterns. Walkadoo takes the traditional notion of graphing step data and transforms it into an engaging social experience that supports people to be more physically active. Walkadoo seamlessly integrates with the FitLinxx Pebble. Alternatively, Walkadoo participants may use one of a number of widely available wireless devices, such as Fitbit®.
SilverSneakers is the nation's leading exercise program designed exclusively for older adults. SilverSneakers and Walkadoo are available to eligible AvMed Medicare members throughout Florida.
"Together, Walkadoo and SilverSneakers demonstrate AvMed's industry-leading approach to caring for its Medicare Advantage members. By offering established programming coupled with an innovative curriculum, AvMed is empowering its members to become engaged stakeholders in improving their health and well-being," said Ben R. Leedle, Jr., Healthways president and chief executive officer. "Healthways is proud to be AvMed's partner in delivering original solutions to meet the needs of its members."
Using proven methodologies based upon more than 20 years of science and outcomes, SilverSneakers increases physical activity in older adults, resulting in higher well-being and lower healthcare costs.
The effectiveness of SilverSneakers is evidenced through a survey of AvMed members who have participated in the program. According to the survey results, 59 percent of AvMed's SilverSneakers enrollees reported their health as excellent or very good, almost twice the national average of 30 percent of the general population for older adults, as reported by the Medicare Health Outcomes Survey(HOS). In addition, 88 percent of AvMed respondents maintained or increased their level of physical exercise from a year ago, showcasing the program's ability to get people active and keep them active. Moreover, 94 percent of AvMed members stated they did not feel depressed much within the last year, a testament to the program's emphasis on social programming.
The SilverSneakers Fitness Program was founded in 1992 and serves more than 11 million eligible members. The Healthways fitness center network offers convenient access to more than 15,000 participating fitness and wellness facilities nationwide.
About AvMed
In 1969, AvMed began in South Florida as Aviation Medicine to serve the growing airline industry by providing pilot physicals. Today, with offices in every major metropolitan area of the state, AvMed aims to inspire its membership of 300,000 Floridians to "Embrace better health." AvMed provides Medicare Advantage coverage in Broward and Miami-Dade counties, Individual and Family coverage in Broward, Miami-Dade, and Palm Beach counties, and Commercial coverage in more than 30 counties across the state. Major employer clients have been partners for decades, a testament to AvMed's culture of service, which consistently ranks above statewide peers. For more information, visit http://www.avmed.org.
About MeYou Health
MeYou Health is dedicated to helping people pursue, achieve and maintain a more healthful life by improving their well-being every day. MeYou Health products feature compelling web and mobile experiences that encourage people to become mindful of small actions they can take every day to engage their body, mind and spirit. We also transform social networks into support systems, activating their potential to motivate and inspire. By engaging, educating and empowering people to make better choices, MeYou Health promotes personal growth and lasting change. Located in Boston, MeYou Health was founded in 2009 as a wholly-owned subsidiary of Healthways.
About Healthways
Healthways (NASDAQ: HWAY) is the largest independent global provider of well-being improvement solutions. Dedicated to creating a healthier world one person at a time, the Company uses the science of behavior change to produce and measure positive change in well-being for our customers, which include employers, integrated health systems, hospitals, physicians, health plans, communities and government entities. We provide highly specific and personalized support for each individual and their team of experts to optimize each participant's health and productivity and to reduce health-related costs. Results are achieved by addressing longitudinal health risks and care needs of everyone in a given population. The Company has scaled its proprietary technology infrastructure and delivery capabilities developed over 30 years and now serves approximately 45 million people on four continents. Learn more at http://www.silversneakers.com or http://www.healthways.com.